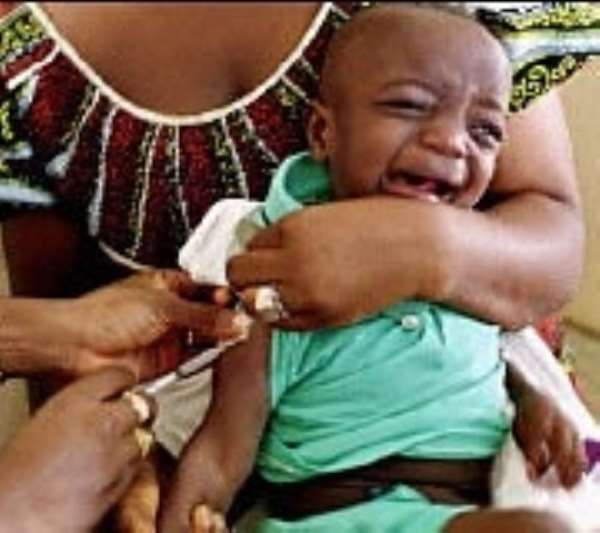 Agona Swedru, April 10, GNA - Ms Cynthia Obbu, Coordinator at the District Health Management Team (DHMT) has expressed regrets about the inability of health personnel and volunteers to vaccinate children of the Jesus Christ Apostolic Faith Church at Agona Asafo against polio. Members of the Church have persistently refused to allow their children to be immunised according to the doctrine of the church. Ms Obbu said the problem had become a big one for personnel at the Directorate, adding that, "if any of these children is infected by the polio virus or any of the six killer childhood diseases it would be difficult to handle". She said that the situation moved the World Health Organisation (WHO) representative in Ghana to visit Agona Asafo to meet the leaders and pastors of the Church to see how best to solve the problem. Speaking to the GNA at Swedru, the Coordinator said a total of 49,939 children between the ages of one month and five years in the Agona District of the Central Region would be immunised in the three-day National Immunisation Day (NID) for polio, which begin on Friday. Ms Cynthia Obbu, said health personnel and volunteers operated at schools, towns and villages bordering the district on Thursday before the commencement of the exercise.
She expressed the hope that the District's achievement in the last exercise would be improved upon to achieve the target for the second round.
Ms Obbu said the Ghana Health Service had added Vitamin A capsules to the vaccines to give micronutrients to the children in the exercise. She said 45,627 children were expected to receive a blue vitamin A capsule while 36,491 would be given red vitamin A capsules. Ms Obbu stated that children between six months and 11 months would receive the blue vitamin A while those between 12 months and five years would have the red vitamin A needed for essential growth and development.
She explained that Vitamin A offered improved development, vision, taste, hearing, appetite, and played an important role in the immune system and helping the body to resist infection and diseases. Ms Obbu said vitamin A deficiency (VAD) reduced resistance to infection and increased the risk of death. She stated that vitamin A deficiency in children could cause eye damage, blindness and other problems.
Ms Obbu called on Assembly Members, Chiefs, teachers, religious leaders and opinion leaders to help in the education against Vitamin A deficiency.