Brouhaha Over Otiko Djaba's Rejection By NDC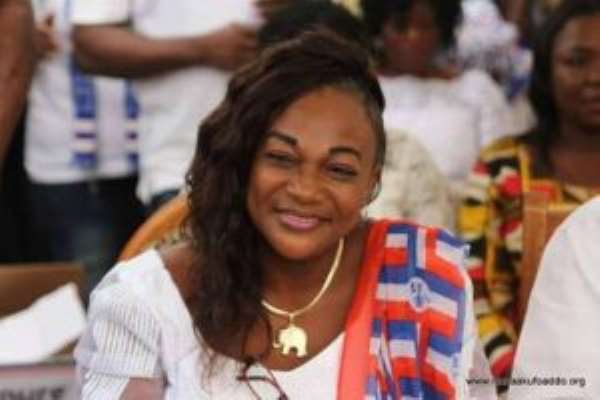 THE ONGOING debate in Parliament and other media platforms on whether or not the Minister designate for Gender, Children and Social Protection, Ms. Otiko Afisa Djaba should be confirmed as a substantive minister, seems to be going one direction now.
As the members of the minority side in Parliament are pushing for her disqualification, many other Ghanaians especially those in the Northern Region are also demanding for Ms. Otiko's outright approval as Minister of State.
Almost all political talk shows on most of the radio stations in Tamale and other parts of the region seem to centre on Ms. Otiko's encounter with the Appointments Committee of Parliament.
Majority of people who phone into the programme continue to attack the minority members on the Committee for apparently pursuing a surreptitious agenda against Ms. Otiko at the vetting.
The people believe that the opposition Members of Parliament on the vetting Committee were being personal and political at the vetting to ensure that Ms. Otiko paid for her purported insult or attack on former President John Dramani Mahama.
The Vetting of Ms. Otiko Afisa Djaba on Monday January 30, 2017, became highly dramatic when some members from the minority side, led by Haruna Iddrisu and Alhassan Suhuyini artfully opened fire on the Minister designate for Gender, Children and Social Protection for describing the former President John Dramani Mahama as having "the heart of the devil", "evil", "wicked", and "an embarrassment" to Ghanaians of Northern extraction, during the 2016 electioneering campaign.
In spite of their strong demand for an apology or retraction from her, Ms. Otiko vehemently declined and boldly insisted that her comments about the Ex-President were not meant to insult him, but rather to give a description of him to Ghanaians.
This has since generated unimaginable public discussions and debates especially on radio, television and among political parties, as to whether she deserves to be accepted as a Minister or not.
But that notwithstanding, Ms. Otiko Djaba continues to receive some public endorsement and praises from different groups, associations and some individuals, as well as other women advocacy organizations, for exhibiting high level of confidence and mental toughness during her Ministerial vetting.
Some of the radio callers and panelists have justified MsOtiko's alleged attack on Ex-President John Mahama as a typical mark of a "true grassroots woman who understands the plight of the suffering masses and always wants to speak for them".
Ironically, most non-governmental organizations and civil society organizations such as ActionAid Ghana, Northern Sector Action on Awareness Centre (NORSAAC), Ghana Developing Communities Association (GDCA), Grassroots Sisterhood Foundation and many other women related organizations are advocating for more women to be appointed into key positions in government and other national offices.
But so far, only Hajia Alima Mahama, Minister designate for Local Government and Rural Development and Ms. Otiko Afisa Djaba are the only women nominated as Ministers from the Northern Region.
On the other hand, some three strong groups in the New Patriotic Party (NPP) in the Northern Region have jointly issued a press statement in Tamale demanding the immediate approval of the nomination of Ms. Otiko Afisa Djaba by Parliament.
The statement was signed by the Tamale Central NPP Women's Wing leader and Spokesperson 'Girls Girls for Nana Addo', Madam Suraya Manan, Abdulai Abubakari Sadik of the YESWECAN Group of NPP in Tamale and member of Northern Regional Communication team, Mr. Yussif Danjuma.
The groups expressed their profound gratitude to President Nana Addo Dankwa Akufo-Addo "for rewarding the hard work of our strong, fearless, courageous and dedicated woman, Ms. Otiko Afisa Djaba, who dutifully rallied all the women of our great party in support of our overwhelming and historic victory in December 2016 as Minister designate for Gender, Children and Social Protection".
According to them, the excellent performance of Ms. Otiko at the vetting had inspired and given them the indication that Ghanaian women were no longer ready to be intimidated, marginalized or pushed aside in their struggle for key leadership positions.
"But unfortunately, her show of mental toughness, intelligence and courage to tactically deal with some questions deliberately designed to undermine, humiliate and set her up against the people of Ghana, is being misconstrued by some uninformed people who are running amok for the innocent blood of Otiko.
"The likes of Franklyn Cudjou of IMANI Ghana, who unnecessarily attacked Ms. Otiko Afisa Djaba and described her as a "pale shadow" of her predecessor Nana Oye Lithur,
"Osei Kwadwo Addo, a Lawyer and Lecturer at the Ghana Institute of Journalism also sent Madam Otiko down to the gutters for defending herself against the well calculated gambit or ploy by some NDC MPs serving on the vetting committee to denigrate the Gender Minister designate.
"Madam Otiko Djaba is a freedom fighter and an advocate of democracy who has the passion for reducing poverty and hunger among humanity and most especially women and children", the groups maintained.
The NPP pressure groups also questioned the whereabouts of Mr. Franklyn Cudjou, Anita De-Sousou, Osei Kwadwo Addo, Alhassan Suhuyini, Haruna Iddrisu and the rest, when people like Aseidu Nketia, Kofi Portuphy, Ofosu Kwakye, Fiifi Kwetey, Koku Anyidoho, Haruna Iddrisu, Dr Omane Boamah and even President John Dramani Mahama himself, were insulting Nana Akufo-Addo and describing him as "drug addict, cocaine dealer, anti-northerner, incompetent, violent and arrogant leader in the 2008, 2012 and 2016 electioneering campaigns.
"Did President Mahama ever call any of his young Ministers and party communicators who mastered in running the reputation and integrity of Nana Akufo-Addo down to order, or did he ever apologise for any of their flaws? So, why now and why Otiko Djaba! Or is it because she is a woman?"
The three NPP groups, therefore, appealed to the Parliament and Ghanaians to have full confidence in Ms Otiko Afisa Djaba and confirm her as Minister for Gender, Children and Social Protection.
From Edmond Gyebi, Tamale