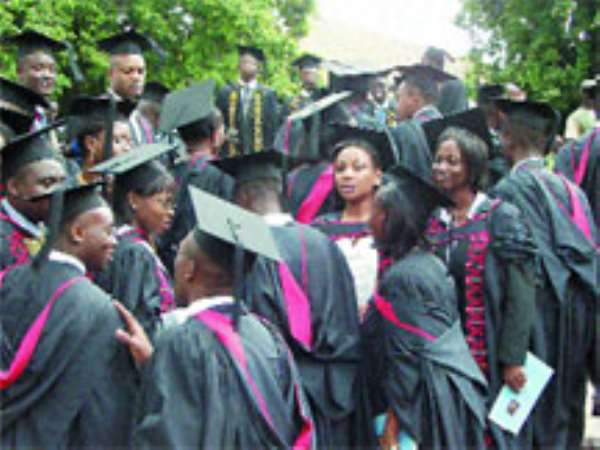 Bosomtwi (Ash), April 9, GNA - Vice Chancellors of public universities have deliberated on the need for adequate funding, autonomy of universities and indiscipline of students on campuses among others as some of the pertinent issues affecting higher education in Ghana. Maximum of aggregate twenty (20) will be used for admission into public universities from 2006/2007 Academic Year.
This was contained in communique issued on April 7, and signed by Rev. Prof. E. Adow Obeng, Prof. Kwesi Andam, Prof. Kwadwo Assenso-Okyere, Prof. Anamua-Mensah and Prof. John B.K.Kaburise. According to the communiqu=E9 these issues were deliberated on at a three-day retreat by the Vice-Chancellors at Late Bosomtwi, in Ashanti Region from April 1-3, 2005.
Some of the issues discussed include the frustration of applicants and parents on relevance of maximum aggregate of 24 for admission to public universities in Ghana, the need to expand graduate studies for national development and faculty renewal in universities; need to place emphasis on science and technology.
The role of the scholarship secretariat in graduate education and the rising cost of health care in universities, the need to ensure quality teaching and learning, cutting edge relevant research and efficient management of resources and processes, the need to increase contribution of university funding by direct beneficiaries and the government were among the issues discussed by the Vice -Chancellors. The communiqu=E9 also called for time tested processes of the universities that should be allowed to operate at all times that the universities are always available for consultations on issues of public interest.
Additionally, the deans of schools of graduate studies are being asked to review modalities for funding graduate studies. The communiqu=E9 further stated that discussions would be initiated to get the ministry of education and sports involved in the operations of the scholarship secretariat with the aim of achieving the goals of training high calibre human resources for national development and faculty renewal.
It also stated that discussions are on going for the universities to participate in the National Health Insurance Scheme. Conclusively, the document stated that the universities should be allowed to pursue their laid down processes and sanctions that deal with deviant behaviour and that the universities should carry out advocacy among students on good behaviour