February 4, 2017
|
Opinions Letters
Dr Nyarkotey Writes To Prez Nana Addo
DR. NYARKOTEY RAPHAEL OBU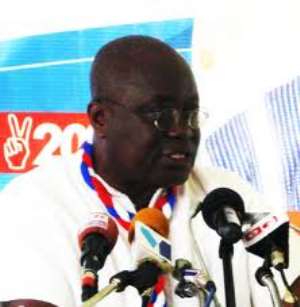 His Excellency,
I write as the President of Cancer Voices Gh which represents the voice of people from across the country that has all been affected by cancer in some way. They share their experiences to help shape cancer services and improve cancer care. We represent the Ghanaian who is suffering from cancer
We achieve our values, vision and purpose by building relationships with:
Hospital advisory group
Local and central government
Community organizations
Private organizations
People affected by Cancers
Taking part in a research focus group or workshop
Participating in service design workshops
Attending regular steering group meetings
Reviewing cancer information materials
Campaigning to change cancer policies with the support of a project team
Carrying out own research into the needs of your peers with the support of a project team
As a charity representing the views of the people in the country, we thank the current government for having a special policy on cancers in their Manifesto. We will like to remind you of the NPP Manifesto which states in chapter 10 page 121 that "NPP recognizes the increasing incidence of cancers (childhood cancers, breast cancer, and cervical cancer, prostate and other cancers) as a national problem. In this regard, the NPP will establish centers at all levels of our healthcare delivery system for screening, diagnosis, early detection and prevention of these cancers, and this will be paid for under the restructured and revitalized NHIS"
We consider this to any countries developing pragmatic measures to fight cancers. In the UK, the Public Health England, with support from Prostate Cancer UK, launched a local Be Clear on Cancer pilot in London to raise awareness on the increased risk of prostate cancer amongst Black men aged 45+. 1 in 4 Black men in the UK will be diagnosed with prostate cancer at some point in their lives compared to 1 in 8 of all men.
The campaign will target Black men from all socio-economic groups over the age of 45. It will also target their key influencers, such as wives/partners, friends and family. The campaign is using 45 as opposed to 50 as Black men have been shown to be diagnosed with prostate cancer on average five years younger than white men. So if you are a black man and 45 years above whether you have symptoms or not you are entitled to free prostate cancer screening on the NHS. Other countries are also addressing prostate cancer in black men and it is time for Ghana to rise up.
Cancer Differs by race
Yes, Cancer differs by race and it must be addressed based on racism. poor data quality, inadequate cancer research, weak health infrastructure, extensive patronage of traditional assistance, low public awareness, ignorance among patients, lack of organized and effective cancer screening, inadequate health professionals, and public attitude as a whole, as some of the obstacles confronting cancer control in Africa.
Mr. President, There is no single thing that causes cancer. It is a spectrum of diseases and not a single entity! As a researcher, I realized that for once, our cells don't get cancer. They can't have cancer but they cancer. Coupled with the overwhelming resignation many Ghanaians have regarding the certainty of cancer, little efforts seem to go into the ultimate cancer cure: its prevention.
By looking at the body as a complex system, whether or not we fully comprehend the system, we may very well be able to notice causal relationships between body systems that were never seen before. Things like regular inflammation, even from wearing high-heeled shoes, can have a hand in causing a person's cells to "cancer."
I have realized that cancer is often misunderstood by even the most respected medical professionals in the world. Part of the problem lies in the belief that a person "gets" cancer like the way they would get cold or bacterial infection.
But in reality, every cell has the ability to cancer, and a variety of factors can prompt a cell to do so. And while most oncologists (and even leading cancer associations) consider cancer a genetic disease, I realized that this is not entirely true.
From my research cancer isn't a disease of the genes, rather it's a disease where cells evolve to look and behave in a certain way, using gene alterations to get there simple. You see when we find a way to repair one gene alteration; cancer finds an alternative route quite quickly.
Cancer, therefore, occurs when genes within a cell lose their ability to regulate that cell's growth. These disobedient cells don't know how to stop multiplying or die. But all cells have the potential to lose this ability, meaning any cell can cancer at any time depending on the environment it find itself!
Mr. President, but while one-size-fits-all "magic bullet" pharmaceuticals have found ways to cure diseases caused by invader stimuli: the answer to a disease caused by our own wayward cells may require a very different approach. If the problem is within our system, the solution can only come from understanding how our own body works-black men!
I know readers may be wondering and asking if cancer is unavoidable? No. The choice to die without disease is ours to make, right now. And I don't know about you readers. But trying to live my entire life cancer-free seems like a pretty formidable goal as I embark on because of my research work.
Mr. President, cancer is not an equal opportunity disease and I believe that unless we tackle the primary prevention of cancer i.e. stopping cancer before it starts, we are unlikely to see any improvement in the cancer situation in Ghana. There are many barriers to action on the primary prevention of cancer; cancer is also caused by lack of political will power to fight it. In my view, the biggest barrier to addressing cancer services is the lack of action on primary prevention which necessitates greater resources into services in the first place.
I sincerely hope this is a great opportunity to include the environmental and occupational risk factors for cancer into new cancer plans…without addressing these confounding risk factors we can only look forward to a cancer forever future.
There are many risk factors to consider—race, family history, physical health and lifestyle—even geographic location, bio-chemical difference—are all factors that can increase the likelihood of developing prostate cancer. Most of these risk factors are not necessary cancer causing agent.
Mr. President, some of the reasons why black ethnicity are more prone to cancer include the lack of health workers, the quality of our healthcare system, distrust in the medical sector, lack of screening programs and centers across the country, few charities fighting against cancer issues, our tertiary institutions not running courses in cancers to train expert in the management of the disease, cancer registries and misinformation regarding right treatment option in the media.
Cancer disparities exit and it is time we take cancer issues in Ghana seriously and start the campaign and free screening program to reduce high mortality rates in the county. This is why I am particularly interested and happy with the NPP Manifesto on Cancer Policy.
What needs to be done for Successful Cancer Policy?
Mr. President, What makes cancer so fatal is the fact that it takes so many years to develop cancer microscopically before the disease start showing signs and symptoms, and the longer one lives, the more one accumulates toxins and the higher the chance of developing it,
Mr. President, as a cancer charity, we are seeking to change the approach, because at the end of day, cancer patients reporting at late stages do not only make treatment expensive but also ineffective, so we are seeking to tackle cancer from the angles of primary and secondary prevention and this should be taken into consideration in the NPP Cancer Policy. And this will take the form of sensitizing the public on the disease, it causes, who is at risk, screening interventions and healthy lifestyles of preventing it a key priority.
Mr. President, the Cancer registry is the brain and central nervous system of cancer control programme everywhere…Therefore, we need politicians to make laws that will make cancers a reportable disease and also accord them the needed attention.
Mobile vans should be deployed to enable charities go to the rural areas to raise awareness and offer screening programs. I know you are really proud to see young professionals doing charitable programs to help Mother Ghana.
On Presidential Initiative of Cancer Policy
Mr Prez, I proposed a special Presidential Initiative on cancer policy in the country at the presidency. The presidential initiative should start with free cancer screening program on the NHIS working closely with cancer charities disburse such concept. There should be National Day's recognition of significant cancers to help raise awareness.
I am also writing to you to declare every Father's Day a prostate cancer awareness day so that awareness on prostate cancer can go far starting from this year Father's Day in June just like the Valentine Day has become the Chocolate Day in Ghana.
Also Mother's Day should be declared as Breast and other women's cancers day. National cancer recognition needs national Day recognition as well. In this case everybody will talk about cancers and free screening programs will go on that day.
Mr. Prez, If you speak once on cancers yourself we are on cause to raise awareness. I also bring your attention to also recognize September as National Prostate Cancer Awareness Month as it is recognized globally a prostate cancer month and most presidents issue statement in September to start the celebration.
God bless Ghana
God bless Mr. President
God bless our health care system
Dr. Raphael Nyarkotey Obu is a research Professor of Prostate Cancer and Holistic Medicine-Da Vinci College of Holistic Medicine, Larnaca City, Cyprus. He is the National President of Alternative Medical Association of Ghana (AMAG) and registered Holistic Medical Practitioner.