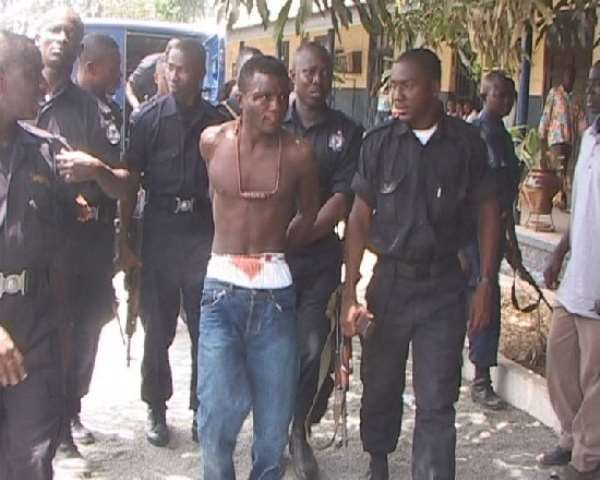 ... Relatives fear arrest as accomplices THE ALLEGED notorious armed robber, Aryee Ayeettey, alias Ataa Ayi, currently in police custody, told an Accra Fast Track (High) Court (FTC) that his relations do not pay him any visit.
According to him, his relations feared being arrested by the police as his accomplice, if they are seen in contact with him, and therefore could not engage the services of a solicitor.
Ataa Ayi, together with three other suspects, was arraigned before the court, presided over by Justice Paul Baffoe-Bonnie, on charges of conspiracy and robbery, contrary to the criminal code of the country, without the presence of their counsel.
The rest of the accused persons include Samuel Kweku Annan, alias Sammy Tugah, Roger Kobla Abodoga, alias Rojay and Raymond Ameh.
The court did not take their pleas but adjourned sitting to April 21, this year, to enable them engage the services of a lawyer.
The accused persons are standing trial for stealing an amount of ¢70million belonging to one Mr. Bernard Boadi-Agyemang on October 14, 2003 by means of threatening to harm one, Mr. Isaac Yanney and Mamudu Iliasu with the intent of overcoming their resistance to steal the money.
In a related development, the accused persons are standing trial at a magistrate court for allegedly acting with four others on the same charges.
This time, they were accused of trailing Japanese Nationals on September 7, last year at about 8.30am and robbing them at gun point of an amount of ¢128,118,640 they had withdrawn from the Opeibea Standard Chartered Bank on their way to the Oasis Hotel at the Airport residential area in Accra.
Their actions allegedly led to the death of a-70-year-old Japanese, Mobuyoshie Modizuki, and the booty shared among themselves.