Trump's travel ban regrettable – Mahama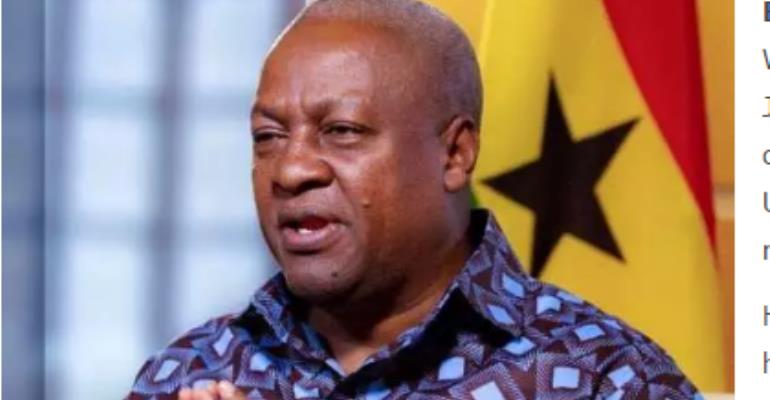 Former President John Mahama has criticized US President, Donald Trump's travel ban describing it as regrettable.
According to him, the development, which has become of great concern to many countries across the world, should be key on the agenda for African leaders attending the African Union (AU) Ordinary session in Addis Ababa, Ethiopia.
In a series of tweet on Tuesday [January 31], John Mahama, who is also the immediate past Chairman of ECOWAS, a bloc under the AU, also congratulated Ghanaian, Ambassador Kwasi Quartey on his election as Vice Chairman of the AU.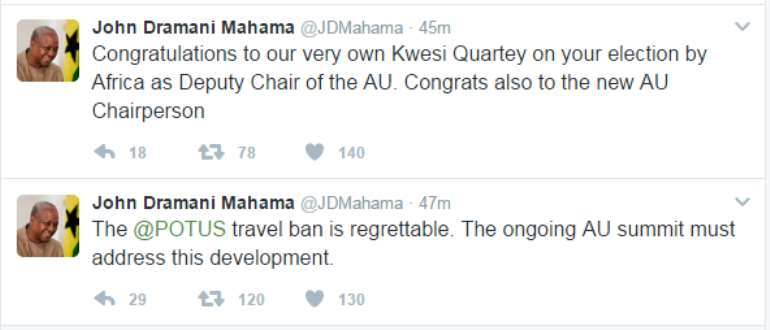 Donald Trump last Friday signed an executive order barring citizens from seven Muslim countries; Yemen, Iran, Iraq, Libya, Somali, Sudan and Syria from entering the United States for 90 days.
The order also placed a moratorium on refugees entering the country for a 120-day period.
Many world leaders have criticized his decision, describing the order as being divisive, illegal, insulting and discriminatory.
UK Foreign Secretary Boris Johnson described the ban as "divisive and wrong," while London Mayor Sadiq Khan said the move was "shameful and cruel."
Their comments came two days after Prime Minister Theresa May, became the first foreign leader to officially meet with Trump.
African leaders are yet to be vocal on the matter, which some social commentators on the continent say has negative implications on Africans.
President John Mahama's open condemnation of the development may spark a continental debate, and Africa's official position on it since countries such as Sudan, Somalia and Libya are involved.
–
By: Jonas Nyabor/citifmonline.com/Ghana