Sewing For Education; 24-Year Old Dressmaker In Remote Karni Defying Early Marriage Stereotype To Further Her Education With One Sewing Machine!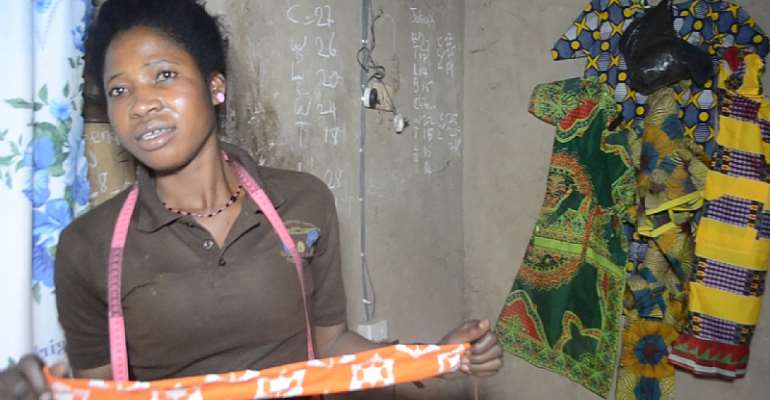 The average twenty-four year old lady in many parts of the three Northern regions of Ghana may have been married with two, three children and engaged in some menial farm job or other.
Some of these young ladies, travel down south to seek pastures green - many times ending up as 'kayayei', house helps, farm hands, with others landing the odd job of babysitting or store-keeping.
But for Josephine, pursuing a passion now turned a job at Karni with very low economic activity, is what is spurring her on to rewrite the narrative. Marriage may just be the last on her mind, with a dream to further her education top of her wish list.
Her simple sewing machine has 'dressed' children and adults alike in the Karni community in the Lambuisse Karni district of the Upper West region since completing vocational school in 2015.
However, it was only a few months ago that 24-year old Josephine was able to become formally established in the community with a population of about five thousand.
With this sewing machine, she is serving the clothing needs of hundreds of people in the community (including the physically-challenged) especially during the festive periods.
Child marriage figures
21% of girls in Ghana are married before they are 18 but rates can be as high as 39% in the northern part of the country, according to available statistics.
The figures point to a phenomenon which requires a little more attention, especially in the three Northern regions.
An Ending Child Marriage Unit was set up in 2014, spearheaded by the Ministry of Gender, Children and Social Protection to help mitigate the situation. The Ministry has been working with UNICEF to develop a three-year National Strategic Framework to End Child Marriage.
The strategy is due to be completed and launched this year (2017) - with some local radio and television commercials currently being run on local Ghanaian broadcast networks on the need to end child marriage.
How it started
Three years of vocational training alone at the St. Monica school in the Upper West Region may not have been enough to get her a decent shop, sewing equipment, and the will to carry through a long-held dream of being a marquee fashion designer.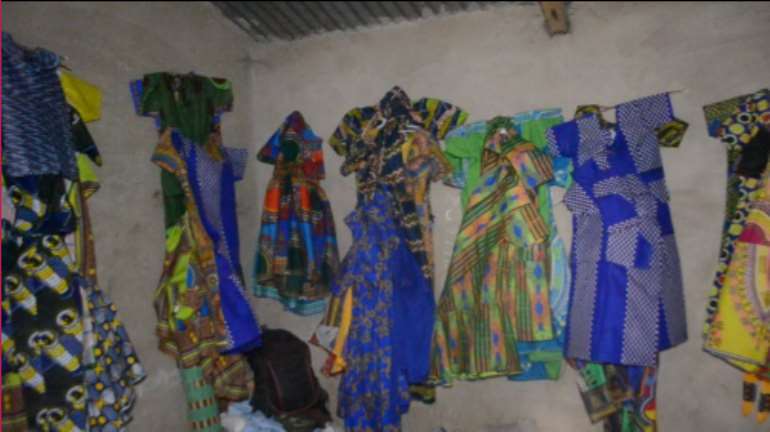 It may also not have been enough to earn her local clients for her talent, but it certainly has opened her up to bright opportunities; one she describes as having leveraged on, albeit in small leaps.
She's chosen to deviate from farming, which is commonplace in these parts, to pursue a passion, dressmaking.
The one sewing machine which now serves as her only key equipment, was acquired through the help of her father in 2015, when she graduated from vocational school.
"I started this small enterprise after school. I had a vision, farming was not what I would do, but the bigger question was how I was going to begin," the hearty Josephine remarked.
There was not even an opportunity to learn on the job, she tells me. "I did not have the chance to learn at firsthand the art of dressmaking from anyone around here. I had to self-learn, and that you'd imagine was really tough out here," she further added.
Her sixty-year old father - a retired teacher would not watch his daughter idle about after school, that's how she got her first and only sewing machine.
"This machine was bought for me by my father, a year ago. Once I got that, I purchased a few yards of fabric and began sewing one, two, three little shorts and skirts for school pupils. I later began making clothes for the adults too, "Josephine noted.
She would roam the community in search for clients who had torn clothes to be patched, for a token. That was how she announced her presence in Karni- at this time, she had not acquired a shop.
Following months of working as a roving dressmaker, Josephine has been able to acquire a small 'single room' sized shop, and she's rightly named it 'God Never Sleeps', to mirror her journey up until this point of her young life.
"The name of my shop was carefully chosen - I am a Christian and I believe there's a bigger power that makes these things possible. Especially for me, looking back from where it began, I know it's just the hand of God, hence the name God Never Sleeps," she explained.
Working in a 'Disabled Land'
It's another sunny Wednesday at Karni, few days to Christmas - three female clients are helping put final touches to the dresses they ordered. Josephine has been slightly overwhelmed by the numbers with very close deadlines.
She used to travel to Karni from Sigiri, a village close to Jirapa, to work every day - but due to the number of clothes she has to make to meet her deadlines, she's been sleeping in her small shop for at least three days.
Karni, has about four hundred physically- challenged inhabitants, with some fifty of them visually-impaired. On a random walk through the community, one would barely find residents up and about, except a few persons gathered around the market, on their farms and at the dam side, where they draw their water.
It is also evident that economic activities here are very few and far between - across the small village market are lined two huts, under which a group of boys under fifteen are rearranging bolts, nuts, motor spare parts and other small metals.
Their elder brothers own what is really a makeshift bicycle and motor valeting center, where they fix broken motor and bicycle parts. Dotted in the community also are enclosures used as drinking bars and small recreation spots, where some residents while away time.
By all means income streams for residents here are not the most sustainable, but Josephine believes little drops of the proverbial water will make her ocean mighty.
A typical day starts for her at about 09:00 a.m., armed with her sewing machine, a pair of scissors, and other auxiliary materials, she sets out to continue work on clothes she's started making.
On days community folk have torn clothes to fix, she'd quickly attend to those sometimes free of charge.
"This place is very small, but it's all I could get. I rented this place six months ago and I come here every weekday to open up and work, "she recounted.
"It's very difficult working here, which has all these people who are not economically active - but like the little ant, it takes a lot of patience to makes this happen," the 24-year old sporting a coffee brown Lacoste over a knee-length skirt of many bright colors, added.
By 6:00 p.m, she has to be preparing to close up shop and head home unless she has pressing unfinished business to attend to.
Profit versus Philanthropy
The average dressmaker in urban areas charges a minimum of thirty cedis to make a dress for ladies with the men having to pay slightly lower for a shirt or a pair of pants.
This pricing system is however hinged on condition clients come with fabric they want to be made, but the situation here is different.
As low a fee as GHC 5, villagers here can have a dress made for them with their own fabric. The fee moves to GHC 10 if she has to provide the fabric by herself. The unanswered question remains how she's able to break even, acquire fabric, thread and other materials to keep the enterprise running.
But Josephine tells me business is picking up gradually, amidst the obvious difficulties. For many watchers, it's as good an act of philanthropy than running a business with the baseline of making profits.
Occasionally, she gets contracts to make uniforms for some school children in the next village due to contacts she'd made while in school.
Motivation
Despite this, she hopes to save enough money from dressmaking to enable her further her education.
Josephine has resolved to deviate from early marriage rhetoric, to further her education above her current standing, even before thinking about marriage.
She sees a brighter end in sight - one which will eventually lift her family out of poverty.
"I'm not married like the other girls, I also made a decision not to limit myself to farming. I could be a prominent dressmaker if I put my mind to it, and marriage will surely follow later," the dressmaker opined.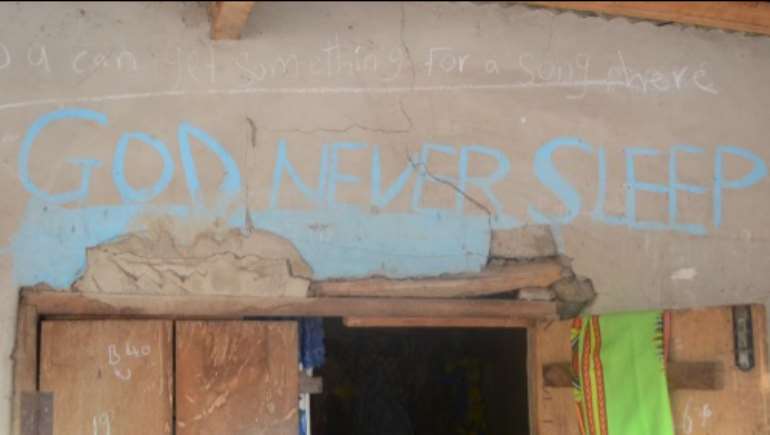 In three years, Josephine hopes to have attained what she describes as higher education (polish her craft) after which she may now want to consider getting a soul mate and subsequently spending the rest of their lives together.
In her shop, are lined an array of beautifully sewn clothes, she made all by herself. Customers had placed special orders for the festive season and some of these orders were yet to be collected.
Apprentice-less
Josephine is spending another day at her shop, knitting and stitching clothes and ironing finished clothes ready for the hanger.
Pieces of fabric had littered the frontage of her shop with strands of the blue blouse she was putting together, flying as far as the borehole which was some meters away.
I noticed she was doing the sewing all by herself, so I asked why. Her response pointed to the fact that some of the young girls in the community were lazy and unwilling to go through the period of two to three years as apprentices.
"I work all by myself. In the past, some young girls were brought by their parents as apprentices, but with time, they began playing truant and that was rather negatively affecting my work, "Josephine said worryingly.
She was firm in her conviction that "once these girls failed to report to work I cannot go to their homes and ask why or even drag them to work."
How has this affected her work?
"Undoubtedly it would have been much easier to have them around to help in one way or the other, but as is the situation now, there's very little I could do," she mentioned.
For her, apprenticeship should be seen as a learning curve, which should mold young girls in the community and afford them an opportunity to learn on the job.
Challenges
Situated in prime locations in urban areas, tailoring shops are perceived merely as the art of cutting cloth according to body measurements of customers and outsourcing stitching to more established tailors, but same cannot be said of the location of Josephine's own enterprise.
Beyond the struggle to get clientele, there are real-time challenges facing the twenty-four year old.
With very limited working tools, young rejoice is putting her talent to use, just so she could make some money for herself. She tells me getting another sewing machine, an iron, a pair of scissors thread and some fabric will enhance her business.
Challenges of self-employment are baring their teeth at the young entrepreneur, but she appears unfazed.
Like many other dressmakers countrywide, the rising market of readymade clothes; sometimes branded in the city is pushing tailors and dressmaking shops on the verge of extinction.
The major dressmakers across the cities are somehow just surviving with their regular customers, the smaller ones, like Josephine and others in adjoining villages are the worst affected.
"The readymade markets in the regional capital and other big towns in the region, are not the only hurdle we have to surmount, non-availability of raw materials is also a major problem," Josephine lamented as she run the stitches over the edge of the piece she was making.
Other women here in Karni have found themselves one form of activity or another to generate income to support their households...no matter how small.
But it is still mainly men who have the land, credits and farm machinery, and they remain a majority when it comes to decision-making in this part of the Upper West region.
Given the lack of affirmative action by the state to boost female participation in rural areas, several civil society organizations and international aid agencies have been working to foster local development with a gender perspective.