We want results - Dr Akoto Osei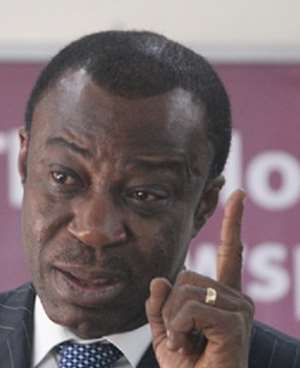 By Benjamin Mensah, GNA
Accra, Jan. 30, GNA - Dr Anthony Akoto Osei, the Minister-designate of Monitoring and Evaluation, says the Akufo Addo Government would want results from ministers to satisfy the 'change' Ghanaians voted for.
The nominee pointed out that the performance of the sector ministries would not be business as usual because 'government cannot continue to work the way we are working, otherwise there will be no results.'
Appearing before the Appointments Committee of Parliament in Accra, Dr Akoto Osei, an Economist and Member of Parliament for Old Tafo, said his job at the Ministry was to produce results to ensure that his colleague ministers met targets.
He advocated a change in the status quo in the way government business was done and promised 'to partially police' his colleagues.
However, he would not 'tell the ministers what to do' but rather coordinate with the sector ministers to make sure that the various Monitoring and Evaluation departments work hand in hand with him.
'I am going to make sure government machinery works in an efficient and timely fashion. We want results, he said, and added: 'I am looking for information from political heads to satisfy the president. The ministers may use their M&E departments to generate information he needs. 'My job is to police my colleagues,' he said.
Dr Akoto Osei suggested a retreat for all ministers and the Vice-President, Dr Mahamoudou Bawumia, to determine targets and plans to implement government's agenda with clear timelines.
He agreed to the possibility of his role overlapping with that of the Senior Minister, but indicated that his work is to assist ministers in achieving key performance indicators set by the Government.
When a committee member suggested that his competence and knowledge about finance proves that he was weightier than the position of Monitoring and Evaluation, the nominee responded that his experience in the Finance Ministry and in Parliament would help him to assist his colleagues.
He said his membership of the Economic Management Team and his finance background would be brought to bear on the Ministry.
On his views on zero-financing from the Central Bank, Dr Akoto Osei pointed out that 'The law now is five per cent but if somebody goes to sign an MoU that puts it as zero, he has a problem."
GNA