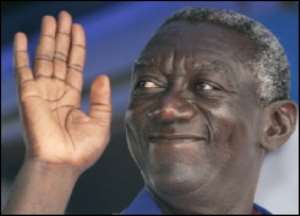 Lagos -- Ghananian President, John Kufuor, has won the current edition of the Face-of-Good-Governance Award meant to honour outstanding and exemplary African Leaders.
He will receive the award on Friday, 29, at The African Lecture and Face of Goood Governance Award ceremony, organised by the London Based Africa Today Magazine. The ceremony is scheduled to hold at the Brunei Gallery, School of Oriental and African Studies of the University of London.
The award will be presented to Kufuor by the previous winner, Obong Victor Attah, Executive Governor of Akwa Ibom State of Nigeria. Kufour will thereafter deliver The Africa Lecture 2005, in which he will speak on the challenges facing the continent, especially with regard to democracy ad respect for human rights. The dual event in billed to be graced by members of various Commonwealth organisation, the diplomatic corps, and the international community.
A statement issued in London and signed by Mr Kayode Soyinka, Publiser/Editor-in-Chief of Africa Today, said the lecture and award ceremony is one of the highlights of the 10th anniversary celebration of the magazine, adding that Kufuor has confirmed that he would be present to deliver the lecture and personally receive the award.
Justifying the selection of the Ghanaian leader of the award, Soyinka said: "President Kufuour has performed his job in Ghana and creditably, with dignity and integrity since he took over from President Jerry Rawlings on January 7, 2001.
He has done a lot to build on the achievements of Rawlings and kept a cool head even when under daily presures from the opposition in the country.