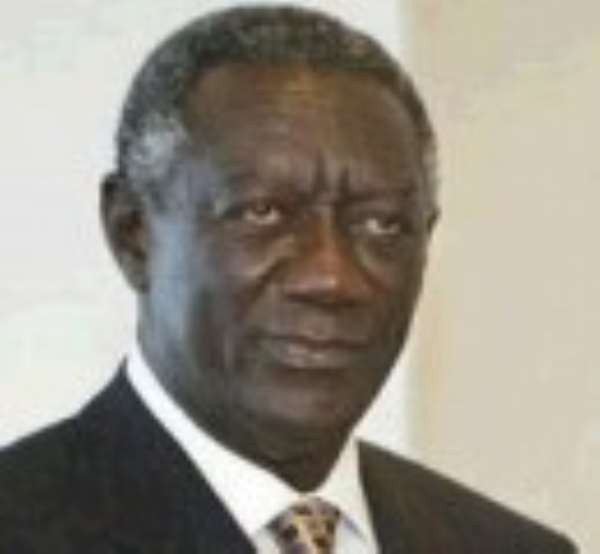 Accra, April 6, GNA - President John Agyekum Kufuor on Wednesday stressed the need for unity and cooperation among the Government, organized labour and employers to ensure industrial peace to support productivity and development.
He said in the past the three parties tended not to tolerate each other and were at loggerheads, adding, "these days there had been an improvement and not until the three parties come together to ensure industrial peace to support productivity and development, the nation could not develop".
President Kufuor made the call when he administered the Oaths of Office and Secrecy to seven members of the first National Labour Commission (NLC) at the Castle, Osu.
He said the NLC was a critical underpinning of the accelerated economic growth being envisaged by the Government because they acted as arbiters for industrial peace and justice and promoted productivity for improved emoluments.
President Kufuor said the Government would appreciate the pioneering role of the Commission for Ghana and pledged not to interfere or manipulate the Commission to ensure its independence to guarantee the nation the industrial peace needed to grow the economy.
"If the Commission is not objective but becomes partial and not take the appropriate steps in their judgement but become bad judges and apportion blame unjustly you will disappoint the nation that you have been called upon to serve and I am sure you will not disappoint us but work for the nation," he said.
Mr Joseph Akom Ayitey, a Legal Consultant and Senior Lecturer at the University of Ghana, who is the Chairman of the Commission, called on organised labour and employers to draw a balance between what was fair and equitable because industrial relations could not be devoid of conflicts.
He stressed the need for an intensive education on the New Labour Law for both workers and employers on their rights, duties and institutions under the Law to address their concerns, adding, " a well-informed worker or employer would assist in the promotion of industrial peace".
Mr Ayitey called for the building of confidence in the institutions under the Law in order that grievances could be directed to the Commission when all avenues to seek redress had been exhausted to promote justice in the industrial sector.
Other members of the Commission are, Dr (Mrs) Eugenia Date-Baa, an Educationist; Opanin Patrick Obeng Fosu, Former Chief Labour Officer; Mr Daniel Acheampong, Director of Human Resources, Volta Aluminium Company (VALCO); Mrs Angelina Morna Domakyaareh, Head of Legal Department, Volta River Authority (VRA); Mr Kwasi Danso Acheampong, Legal Consultant of the TUC and Mr Paul Osei Mensah, Former Secretary General of Ghana National Association of Teachers (GNAT).
The Commission established under Section 135 of the Labour Act 2003, Act 651 is to facilitate the settlement of industrial disputes, investigate labour related complaints in particular, unfair labour practices and take such steps, as it considers necessary to prevent labour disputes.
Others are to maintain a database of qualified persons to serve as mediators and arbitrators and to promote effective cooperation between labour and management. 06 April 05