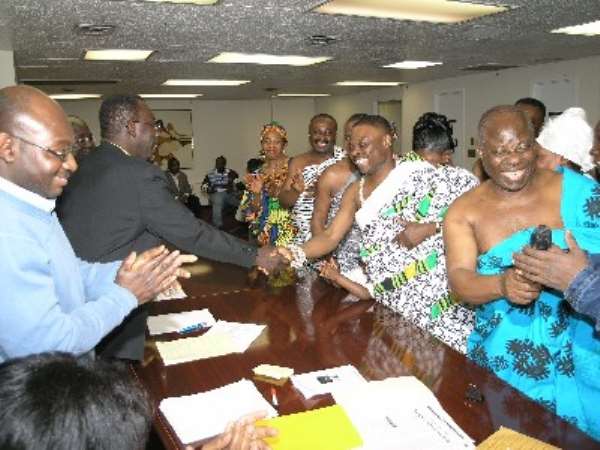 Daasebre Anane Amponsah is now a top power player in the US and Atta Amoyaw also gets the nod for Vice President.
Agoo! Amen, Agoo! Amen, Hear ye, Hear ye, the National Council of Ghanaian Associations aka NCOGA means business when it focuses on their community services to an era of excellence. Their recent Independence Anniversary event at Lehman College was breathtaking, historical, and filled with culture. It is fair to acknowledge the former President, Nana Akwasi for the great job done during his tenure which came to an end last week. Before the swearing in ceremony, Nana Agyemang talked about NCOGA's achievement during his term including; forming closer ties with the Ghana Missions, the formation of a board of Directors, a public forum and a revamped Independence Anniversary event. He passed on his "torch" of power and prestige to his then Vice President and the incoming President, Daasebre Anane Amponsah who is also the distinguished NY Asantefuohene.
Earlier on Mr. Attah Amoyaw who was awarded the "New Yorker of The Week" in 1997 was sworn in as the Vice President. It is unprecedented in the history of New York as the first Ghanaian to be given such award. It is a big achievement for him and the Ghanaian community at large. He is also the President of the renowned Ghanaians Association of Westchester credited for their annual health expo.
The swearing in ceremony was administered by the well respected Consular General "OB" Gyan Busia, following in the footsteps of his uncle and great leader, Dr. Kofi Abrefa Busia. It was witnessed by the Deputy Consular General, Yaw Bimpong, executives of NCOGA, representatives of various Associations. Daasebre Amponsah's short ceremony occurred with support from his sub-chiefs, queen mothers and secretaries. There was an excitement after Nana was sworn in; a shout by one of the sub-chiefs "Asante Kotoko woya woya ...... yenim ko o yenim dwani o, ayee " putting chills on your body. It was also interesting to watch. The Ashanti culture was indeed exhibited and everyone was happy to be a part of it.
Daasebre Amponsah in his acceptance speech thanked the dignitaries, his wife and family and NCOGA for the honor bestowed on him He stated he would work tirelessly with everyone to achieve NCOGA's aims and objectives. He promised to be a good leader and needed everyone's support. Kwabena Manu read a congratulatory letter for Nana Amponsah from Fernando Fehrer, a New York Mayoral candidate.
The new leaders are knowledgeable, down to earth and have great connections that will help NCOGA become as a major power house,
SOMETHING ABOUT DAASEBRE AMPONSAH TO NOTE
Nana Amponsah is really taking his Ashanti culture to a whole new level. He is living up to his title as a chief and the father of Ashantis in New York. He has a blessing from the father of all Ashantis, Otumfuo Osei Tutu II, Asantehene. The Asantehene has commended him for his marvelous work and how he is exhibiting the Ashanti culture in the US.
Whenever he goes to an event, He is accompanied by his Secretary and two or three sub-chiefs. Before he enters the venue, one of the sub-chiefs would first observe what is going on and also inform the host that he has arrived. The sub-chief will come back with a message to Nana that arrangements are being made for his arrival very shortly. He is then led to the venue by another sub-chief, a queen mother and many sub-chiefs.
Daasebre Amponsah is a great leader, possesses good communication skills and a shining example to future chiefs. He has been able to bring all Ashanti Associations together and this led to the Ashanti Day Dance on Christmas Day, 2004. He has also scheduled an Ashanti Day Parade in the Bronx, June 25th.
Ghanaweb congratulates Daasebre Anane Amponsah on becoming NCOGA President. More Grease to his elbow.