'Gov't officials shouldn't be allowed to buy official houses' – Osafo Maafo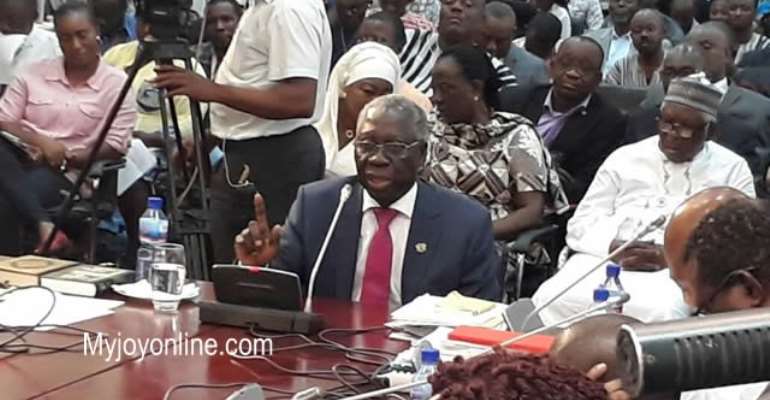 Senior Minister-designate, Yaw Osafo Maafo says the practice of sanctioning sale of state houses to outgoing government officials is unhealthy for the nation.
"I do not believe that people, not even at that level [Presidency] or at the lower levels, should be given the chance to buy houses which are official houses," he said.
Responding to questions at Parliament's Appointment Committee meeting Friday, the former Finance Minister said the nation would run out of accommodation for its leaders if state properties are sold to outgoing officials.
"Where Kwesi Botchway lived, Kwame Peprah lived, I also lived," he said suggesting if any of his predecessors had bought the house he would not have lived there.
Public outcry over the purchase of state bungalows by outgoing government officials reached a fever peach after a former Minister in the erstwhile President John Kufuor government was sued for buying his official residence.
Two National Democratic Congress (NDC) members, Dr Edward Omane Boamah and Samuel Okudzeto Ablakwa sued former Tourism Minister, late Jake Obetsebi Lamptey for purchasing the No.2 Mungo Street bungalow at Ridge in Accra.
Per the lease agreement which spanned 50 years, the late former Minister paid $400,000 for the property.
The NDC members cited cases of conflict of interest, corruption and abuse of office on the part of the former New Patriotic Party (NPP) National Chairman.
They contended late Obetsebi Lamptey's action contravened Articles 20 (5) and 20 (6) of the 1992 Constitution raising issues of cronyism and abuse of discretionary powers.
But the Court ruled in favor of the late Minister, saying his action did not constitute a conflict of interest. Mr Ablakwa and Dr Omane Boamah applied for a review, but Supreme Court upheld the earlier ruling.
Sections of Ghanaians were incensed when former President John Mahama requested to be allowed to keep his state Cantonment residence. Reactions on social media were in opposition to the former leader keeping the state property which housed former Vice Presidents.
However, sensing the acidic public reactions, Mr Mahama wrote to President Nana Addo Dankwa Akufo-Addo withdrawing the request.
"It would appear that these requests threaten to mar the spirit of cooperation with which we as co-chairs of the Joint Transition Team have managed the smooth transfer of power from my administration to yours…My request is therefore humbly withdrawn," the letter read.
Addressing the matter in Parliament during his vetting, Mr Osafo Maafo said the request by the former President was misplaced, adding he was not supposed to have been made it in the first place.
He explained although former Chief of Staff, Julius Debrah discussed the request with him, no agreement was reached.
"I told him it was for the Transition team to make and not Osafo Maafo. Nobody reached an agreement on the matter," he responded to a question posed by Member of Parliament (MP) Tamale North, Alhassan Suhuyini.
He asserted that if all outgoing government officials are allowed to buy the state properties that housed them, the incoming administration would suffer.
"I think that the whole idea of having houses designated for certain positions in the system should be maintained and should not be allowed for people to buy," he added.
Story by Ghana | Myjoyonline.com | Austin Brakopowers | [email protected]