There's no ECOWAS military presence in Gambia – local journalist asserts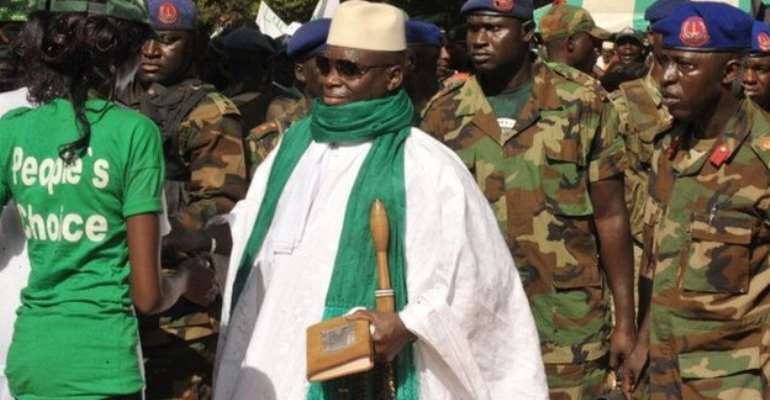 Gambian journalist Modou Lamin has discredited the claim that Economic Community of West African States (ECOWAS) combatant forces are in the country.
He said pictures making the round across the world about ECOMOG forces posted at vantage points in the country are fabricated.
"There is no military presence in Gambia. Those pictures are edited ones," he told Prince Minkah, host of Joy FM's Midday News Thursday.
The sub-regional body has triggered its article on military intervention following the refusal of President Yahya Jammeh to step down after he was defeated in the country's December 1, 2016, presidential election.
He had initially conceded to his opponent Adama Barrow in a manner hailed by the international community, but this was short-lived. He declined to hand-over claiming he had discovered evidence suggesting some infractions during the voting process.
Clause 49 of the Gambian Constitution states that, "Any registered political party which has participated in the election of a President Presidential election or an independent candidate who has participated in such an election may apply to the Supreme Court to determine the validity of the election of a President by filling a petition within ten days of the declaration of the result of the election."
President Jammeh missed the provision, nonetheless, he has petitioned Gambia's Supreme Court to adjudicate on the matter.
Gambian Constitution also states that new Presidents are to be sworn-in on January 19, but the President wants it to be extended for the issue pending before the Supreme Court to be dealt with.
ECOWAS has assembled troops from the 16-member countries to militarily intervene in the political crisis. Pictures purported to be of combatants from the sub-regional body have been circulating on social media.
Some international media also claimed ECOWAS forces have entered Gambia, but Mr Lamin who works with a local radio station said it is false.
"There can be no intervention without the official green light from Adama Barrow," he said adding everyone wants the issue to be handled in a peaceful manner.
The inauguration has been scheduled for 4:00 GMT, but Mr Lamin said it would take place in Senegal.
Asked if Gambian army would defend President Jammeh, he said although the army chief has promised to surrender to ECOWAS forces he is doubtful.
"What they said in their statement is that they are here to serve the Gambian people," he said, adding the coming days would prove that.
Story by Ghana | Myjoyonline.com | Austin Brakopowers | [email protected]