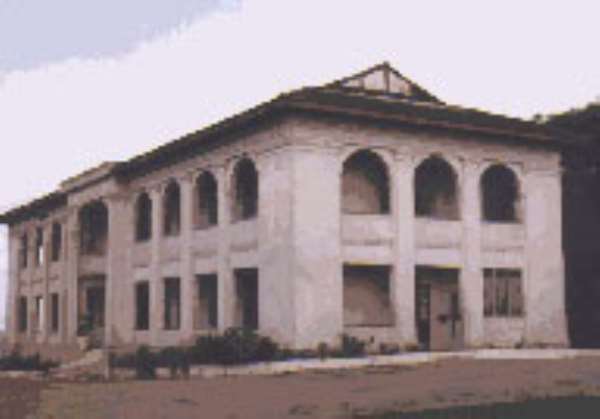 ...Mfantsipim are the current champions, says Municipal Education PRO ...Osabarima Kwesi Atta blames headmasters Cape Coast, Monday, April 04, 2005 (Chronicle) -- THERE WERE startling revelations at a stakeholders' meeting organized by the Oguaa Traditional Council to deliberate on sanity, security and other social vices in the municipality, when Mr. Ebo Dawson Amoah, municipal education public relations officer, who represented the municipal education, disclosed that some students of the top schools were engaged in wee-smoking competitions. Ebo Dawson's revelations came when Osabarima Kwesi Atta II, the Omanhene of the Oguaa Traditional Area, and Nana Kwamina Nyinfa, the Adontenhene of Cape Coast had raised the issue of an awkward event whereby some wee-smoking students had been knocked out after smoking the herb and had to be revived with mashed kenkey. The Omanhene had for some time been tasking the security agencies to rid the municipality of wee smoking. According to Dawson Amoah, these students, especially the final years, initiate the juniors and those who pass the test also bequeath it to the next batch. During the initiation, he said, these students prepare the herb and in some instances, mix it with milk which they pipe and sip. In addition, these guys splash the herb, which in its liquid state on the faces of their colleagues to sniff. Those who are capable of withstanding the ordeal are welcomed to the fold. According to the municipal education public relations officer, Mfantsipim Secondary School students are the current champions, having stripped the championship from St Augustine's College last year. Adisadel College, Ghana National College and Aggrey Memorial Secondary School are all strong contenders, he added. Explaining further, Dawson Amoah said the situation is very disturbing and that it is high time tough measures were put in place to curtail the canker. Dawson Amoah said six students had been sacked recently from St Augustine's College, after they were caught smoking the herb.
There was media report that Adisadel College had expelled 80 students in a similar case, while Ghana National College had done same a few months ago.
According to Osabarima Kwesi Atta II, this unfortunate event, which has engulfed many schools, has remained unpublished, resulting in its escalation.
He said most headmasters of these schools, for fear of tarnishing the image of their institutions, failed to volunteer information to the press, adding that it was about time those who indulged in such social vices were exposed by the students to the general public for quick action.