NDC Members Trade Blows At Odumase-Krobo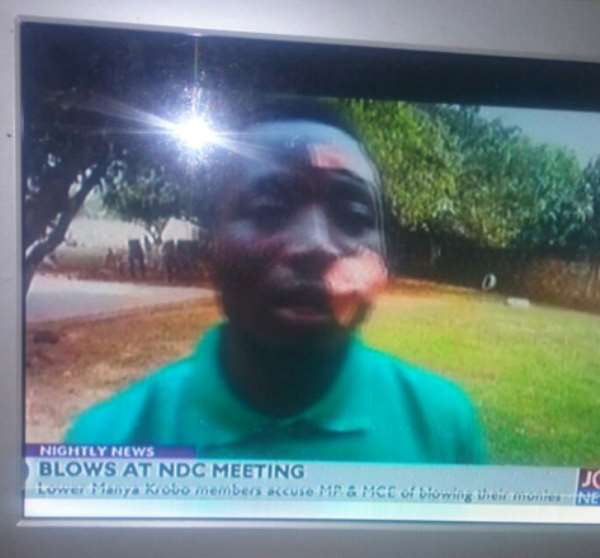 Some of the injured party members
A MEETING which was organized by the Lower Manya Constituency branch of the opposition National Democratic Congress (NDC) in the Eastern Region to brainstorm on the party's humiliating defeat in the December 7, 2016 general election turned into exchange of blows over   cash.
There was total pandemonium at the meeting, which was held at Gated Hotel, Odumase-Krobo, when the issue of alleged misappropriation of   GH¢52,400 meant for polling station agents ahead of the elections cropped up.
DAILY GUIDE sources confirmed that the aforementioned sum of money was given to the constituency executives and Ebenezer Okletey Terlarbi, the incumbent Member of Parliament (MP) to be shared among 262   agents drawn from 131 polling stations in the constituency.
According to the sources, the MP allegedly decided to give some selected few the full amount they were entitled to, while others received less, with majority of them having nothing at all, even though they claimed to have played their roles during the elections.
This purportedly generated an agitation and attacks on some of the constituency executives. The meeting was said to have ended abruptly when the MP reportedly went "mad."
Constituency Organizer Samuel Korletey, speaking to DAILY GUIDE via telephone over the matter, confirmed the incident and expressed grave concern over the conduct of the MP.
Mr Samuel Korletey, narrating further, said shortly after the meeting was opened, Mr Okletey took the floor to respond to the allegation leveled against him, admitting that the money was given to him but he used it to solve a problem which was beyond his control.
Korletey, who expressed shock over the confession, noted that the MP denied on many platforms that that amount of money had been given to him for polling station agents. But, the former MCE, Isaac Agbo Tetteh and Michael Teye Nyaunor asked the MP why he could not tell the people the truth earlier and why the money was not given to the agents.
According to the constituency organiser, the questions infuriated the otherwise known quiet Okletey and in the process wanted to visit his anger on Isaac Agbo Tetteh and  Michael Teye Nyaunor; but his hefty blows were covered by those present.
He added that the action of the MP incurred the wrath of those polling station agents who wanted to retaliate but were restrained by the supporters of the MP.
In the process, a certain Charway John popularly known in the area as Coach, was badly beaten and sustained injuries.
Meanwhile, on some radio stations the MP denied flatly that there was a fight at the meeting.
FROM Daniel Bampoe, Odumase – Krobo