The Gambia crisis: President Akufo-Addo advised not to interfere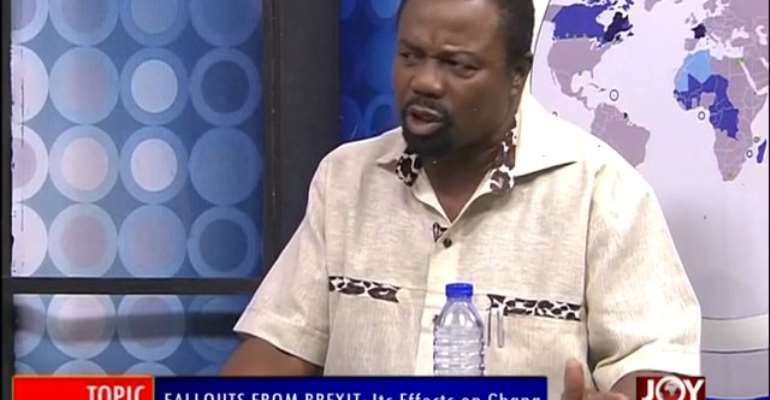 Director of Academic Affairs at the Ghana Armed Forces Command and Staff College says it will be imprudent for Ghana, on its own, to take any action against President of The Gambia, Yahya Jammeh.
Dr Vladmir Antwi Danso said any move President Nana Addo Dankwa Akufo-Addo makes should be based on the decision taken by the Economic Community of West African States (ECOWAS).
Speaking on Joy FM's Super Morning Show, which was discussing the situation in The Gambia and how regional leaders should deal with it, the security expert said the only thing Ghana can do at this moment is to evacuate its citizens from the country.
"If the situation gets worse, we should find a way of evacuating our nationals. That is the only thing we can do. But to take the law into our own hands and want to intervene, unless we are doing it in the name of ECOWAS it is not allowed."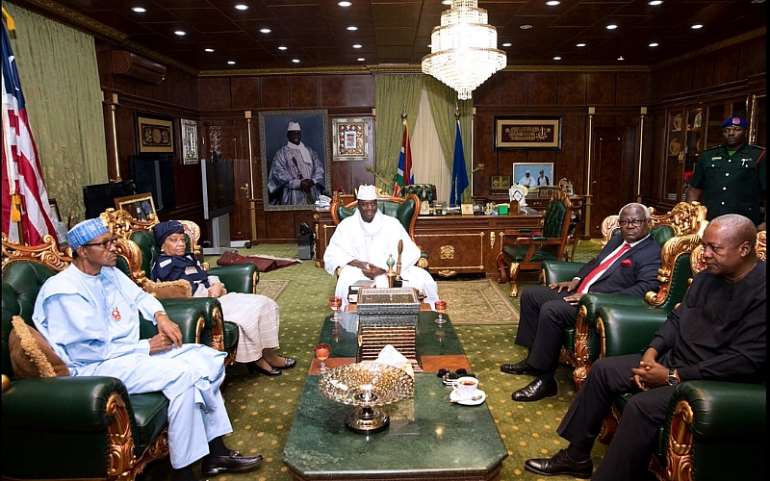 Former President Mahama, Nigeria's Bushari and Chairman of ECOWAS, Ellen Johnson Sirleaf in talks with Jammeh
Regional leaders including former president John Dramani Mahama have tried unsuccessfully to get president of The Gambia, Yahya Jammeh to hand over power to his opponent Adama Barrow who won polls conducted in the country last December.
In the polls, Mr Barrow won 43.3% of the votes compared with Mr Jammeh's 39.6%. A third candidate, Mama Kandeh, got 17.1%.
Although Mr Jammeh conceded defeat initially, he later refused to hand over power, citing 'inconsistencies" in the results declared by the country's electoral commission.
He has filed an application in court for an annulment the results, requesting a re-run. The situation has brought about a lot of uncertainty in the country.
Many, according to a BBC report, have fled the country whilst as many as five ministers have resigned.
On Tuesday, Mr Jammeh declared a state of emergency. In his televised announcement, he decried "extraordinary" foreign interference in his country's affairs and in the December election.
He added that "any acts of disobedience to the laws of The Gambia, incitement of violence and acts intended to disturb public order and peace" are banned under the state of emergency.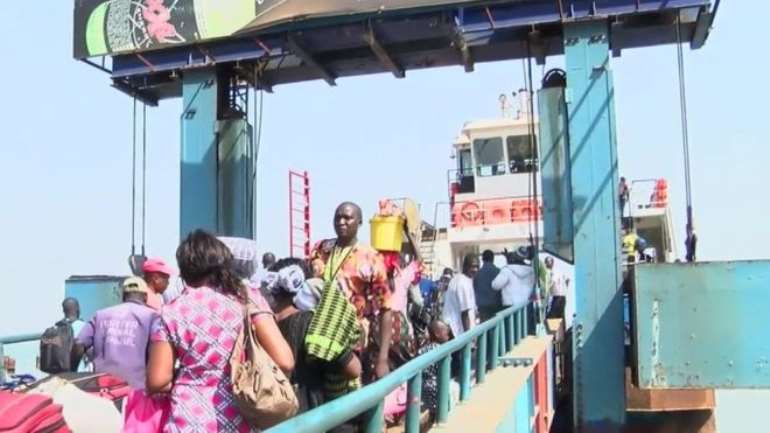 This ferry, as reported by the BBC takes people across the RIver Gambia towards Senegal's capital, Dakar
Dr Antwi Danso said the situation in The Gambia must be handled with tact and Ghana needs to follow existing protocols at the ECOWAS.
He said if any force is applied, Ghanaians as well as the citizens of the Gambia and other nationals in the country will suffer.
Deputy Commandant at Kofi Annan International Peace Keeping Training Centre, Brigadier Gen.Dr Emmanuel Kotia, said the Ministry of Foreign Affairs should be thinking of getting in touch with all Ghanaians in the country.
"Know where they live so that if there's a need for evacuation, they can be assisted," he added.
He said with the declaration of the state of emergency, information flow from within the country will be difficult and that is disturbing.
"However, if the heads of state of ECOWAS are determined, nothing can stop them," he said.
Brig. Gen Kotia cautioned that with the state of emergency and the seeming conflict, t he ECOWAS heads of state must use conflict prevention mechanisms to be able to resolve the issue.
"Deterrence is good, but we should aim first at conflict prevention because if there is any intervention, there will be innocent loss of lives.
"It is important for us to know that if we exhaust all the conflict prevention mechanisms, then force can be used, but I think that there is still room for conflict prevention mechanisms to be used."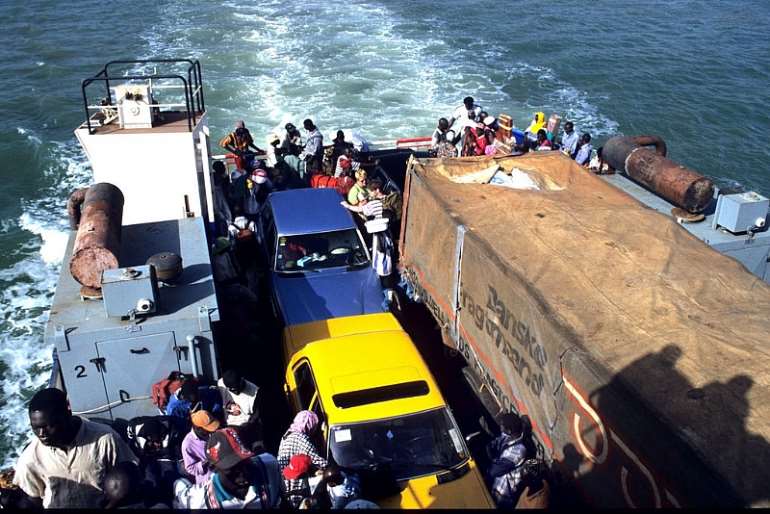 Many more people are fleeing Gambia
He added that ECOWAS could initiate most of its protocols using the counsel of the wise and other negotiating methods to be able to negotiate for peaceful resolution otherwise, civilians and unarmed persons in that country will suffer more.
Meanwhile, a journalist who also spoke on the Show said citizens and other nationals have deserted the country over fear of political unrest.
Kebab Jeffang said "the streets are empty, shops have closed, and all the main markets are empty. Business has stalled.
"People are leaving, right where I live, an entire compound of about 20 people have fled. If you go to the ferry site, a lot of people are leaving, some are going to Senegal while others are moving towards provincial areas," he said.
He indicated that The Gambian Bar Association, has distanced itself from the stance the president has taken and has asked lawyers who are members of the Association not to take up the case.
They have also advised lawyers who are not members of the Association to avoid dealing with any case brought by Mr Jammeh.
Jeffang said, although Mr Jammeh still has some support from the indigenes, most people are against him.
"Most people are telling him that even though 'we love you, leave the country in peace. If that is the only way to keep the country safe, he should leave'.
"This is the stance of many people and yet, Yahya Jammeh is not heading to call. The support he has from the Gambian community is less."
Accoding to Jeefeng, Mr Jammeh's own lawyer has fled the country.
Story by Ghana | Myjoyonline.com | Naa Sakwaba Akwa | [email protected]