Thousands of mourners pour in for the funeral of the Asantehemaa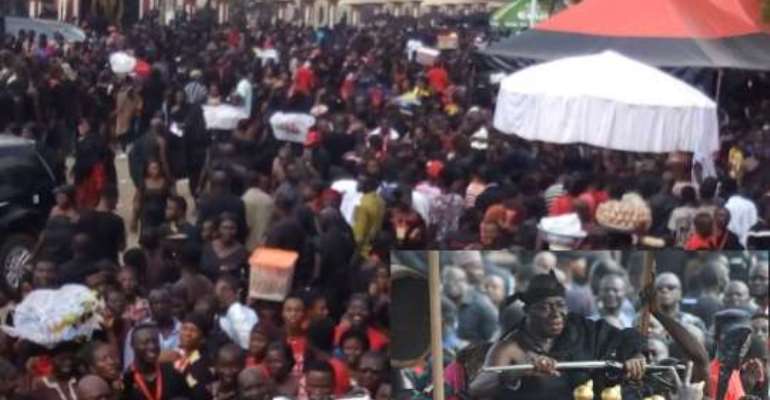 By Sampson Adu-Poku
Kumasi, Jan 17, GNA - Thousands of people from all walks of life continue to pour in at the Manhyia Palace in Kumasi to pay their last respects to the Asantehemaa, Nana Afua Kobi Serwaah Ampem II.
The body of the deceased, the biological mother of the reigning Asante King, Otumfuo Osei Tutu II, has been lying in state since Monday.
She would be buried on Thursday at the Royal Mausoleum in Bremang.
Installed in 1977, she was the 13th Asante Queen and died at the ripe age of 111.
President Addo Dankwa Akufo-Addo, former President John Agyekum Kufuor, former Nigerian President, Olusegun Obasanjo, and other high profile personalities including celebrated Ghanaian Diplomat, Mr. Kofi Annan, Chief Justice Theodora Wood and Togbe Afede XIV, President of the National House of Chiefs, joined the huge crowd mourners, who thronged the Palace to bid her farewell, yesterday.
Also there were a tall list of foreign dignitaries including the British High Commissioner, Jon Benjamin, South Korean Ambassador Wen Ki Lio, the Esama of the Benin Kingdom in Nigeria, Sir Gabriel Osawaru Igbinedion together with delegations from South Africa and La Cote d' Ivoire.
The four-day funeral is being held amid tight security - strong presence of police and military officers, as the large crowd of people clad in black and red, signifying their somber mood, stood in long snaking queues to file past the body.
The beauty, pomp and pageantry of Asante royal funeral, was at full blast.
As the Asantehene sat under the canopy of huge umbrellas to receive and exchange greetings with sympathizers, the traditional drummers and dancers put up intricate performances amid the clattering of executioner's swords.
The air intermittently had been filled with deafening sounds of the firing of musketry.
Teams of health professionals alongside the Red Cross Society and the Saint John's Ambulance and the Ghana National Fire Service are also on hand to respond to any emergency.
GNA