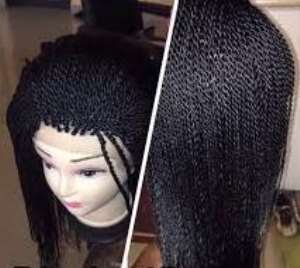 By Doris Ablordey, GNA
Accra, Jan. 17, GNA - Hair Dressers say wig cap sells more than other hairstyles during festive seasons despite an increase in price.
This was revealed in survey conducted by the Ghana News Agency (GNA) on Monday.
The survey, which sought to ascertain the impact of festive seasons on hair dressing business, also revealed that, many people, mostly women bought different hairstyles and patronised the services of hair dressers during Christmas celebrations.
A hairdresser at Lashibi near Tema, Mrs Faustina Gyasi-Arthur said the business boomed during last year Christmas and New Year celebrations with majority of the patrons purchasing assorted wig caps.
'Most of them prefer the wig cap but a few others came in for braids and weave-ons,' she observed.
Meanwhile, some customers of her salon said the product was durable and more convenient to manage as compared to other hairstyles, which they noted were time consuming to manage and also inconvenient.
'I did a bob wig cap for Christmas,' Laura Anning, a customer said.
'I prefer the wig cap because it lasts longer,' she added.
Madam Obenewaa Asante also stated: 'The wig cap is less stressful, you do not need to sit in the salon all day. 'All you have to do is describe your style and give the hair to your hairdresser.'
According to Mrs Mary Kotey, she preferred a wig cap because of the hot weather, which engulfed the nation during the season.
'I will always do a wig cap because of the heat. As soon as I get home from work, I take it off and get on with my cooking.'
The wig cap was sold from GH¢50 to GH¢200 whereas braiding went for GH¢40 to GH¢50 depending on the length and style.
However, a few customers told GNA that they patronised braids because of its versatility.
GNA