Leave President Alone – Kufuor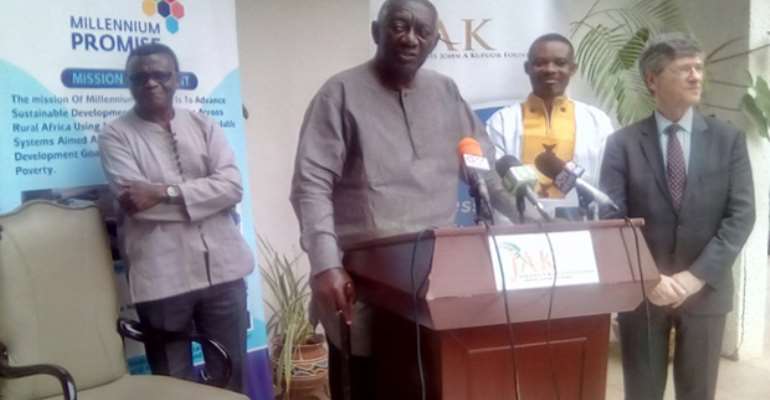 Former President John Agyekum Kufuor has warned critics of President Nana Addo Dankwa Akufo-Addo to give the first gentleman of the land the chance to deliver on his promises to the people.
A section of the public had raised concerns about the number of ministers the president had designated to serve under his New Patriotic Party (NPP) administration, among other things, saying the appointment of 36 ministers might put extra burden on the national kitty.
But ex-President Kufuor has expressed the belief that Nana Akufo-Addo better understands the decisions he's taking and should be allowed to do his job without any interference.
The former president was speaking to the media on the sidelines of a ceremony to sign Memorandum of Understanding (MoU) between the John A. Kufuor Foundation (JAK) and the Millennium Promise Alliance on Sunday at his residence in Accra.
He urged people to stop sitting on the fence to criticise President Akufo-Addo.
They should offer him the necessary support to enable him deliver on his campaign promises, he added.
"The country has assigned him (Akufo-Addo) to do a job. We should give him the free hand to do the job for us," the former president admonished.
"We didn't vote for nothing; we voted because we expect him to give us solutions and he says this is how he wants to do the job, and you sit on the fence and say 'no this is not how to do it,'" he charged at the critics of Akufo-Addo.
According to Mr. Kufuor, those who think decisions taken so far by the Akufo-Addo-led government are unconstitutional should seek a constitutional means of having their grievances addressed instead of "sitting on the fence" and criticising the president.
By Melvin Tarlue