Global Markets Team Supports Autism Centre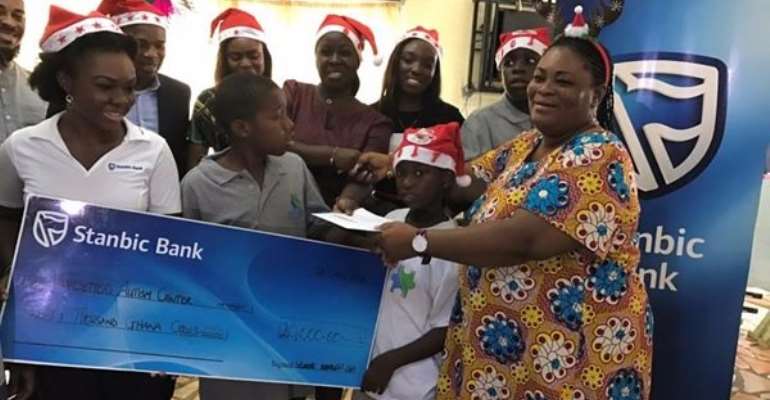 The Stanbic Bank Global Market Unit has presented GHS 20,000 and other items to the Hope Setters Autism Centre at Tema as part of the Unit's Corporate Social Responsibility activities.
The items presented to the Centre included antiseptics, toilet rolls, crayons, washable children paint, children puzzle game boards, children scented bubbles, play doe among others.
Making the presentation at the Centre in Tema, Head of Global Markets, Afua Bulley, said the gesture was part of initiatives undertaken by the unit to raise awareness on Autism and also garner support for autistic children.
"Autistic children can be of great value to the country, depending on how we treat them," she said. "We believe that with the needed support, they will overcome some of their major challenges."
Receiving the items, the Administrator of the Centre, Mrs. Baaba Bentil, expressed the Centre's delight to the team for the donation. She said the money and the items will be put to proper use to directly benefit the children.
Autism is a mental condition, present from early childhood, characterized by great difficulty in communicating and forming relationships with other people and in using language and abstract concepts. Parents usually notice signs in the first two years of their child's life. These signs often develop gradually, though some children with autism reach their developmental milestones at a normal pace and then regress. The diagnostic criteria require that symptoms become apparent in early childhood, typically before age three.
Stanbic Bank is committed to creating prosperity and giving back to the people of Ghana. The bank provides social support in education, sports development, the agricultural sector, poverty relief, health and environmental protection.
Story by Ghana | Myjoyonline.com