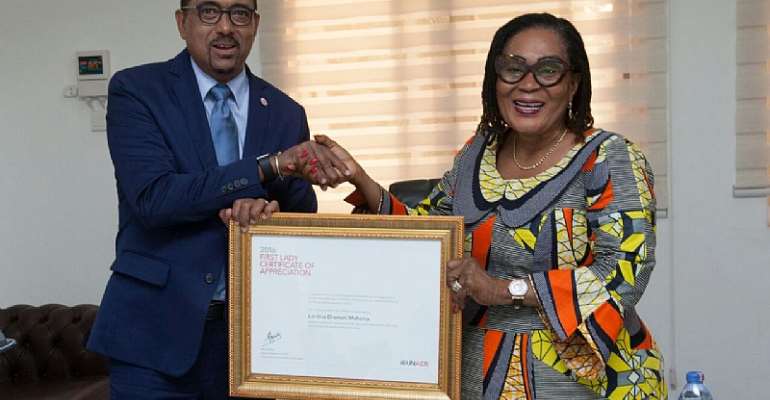 Former First Lady Lordina Mahama has been commended and awarded by UNAIDS for her dedication and hard work during her term in office as the President of the Organisation of African First Ladies Against HIV/AIDS (OAFLA).
Executive Director of UNAIDS, Michel Sidibi, who presented the certificate to the former first lady in Accra, said her leadership helped to transform OAFLA by bringing in a new vision.
Some of the vision, Mr Sidibi mentioned, include bringing AIDS out of isolation, making link with all critical issues that have not been addressed directly such as young girls, women position in society, dealing with human rights issues, linking HIV to cervical, breast cancers, among others.
Joint United Nations Programme on HIV and AIDS (UNAIDS) is the main advocate for accelerated, comprehensive and coordinated global action on the HIV/AIDS epidemic.
The mission of UNAIDS is to lead, strengthen and support an expanded response to HIV and AIDS that includes preventing transmission of HIV, providing care and support to those already living with the virus, reducing the vulnerability of individuals and communities to HIV and alleviating the impact of the epidemic. UNAIDS seeks to prevent the HIV/AIDS epidemic from becoming a severe pandemic.
The former first lady worked with UNAIDS through OAFLA for the past three years.
Through her foundation, OAFLA and the Ghana AIDS Commission, Mrs Mahama has organised series of free medical health screening across the country. People are screened for HIV, syphilis, breast and cervical cancers and other reproductive diseases.
The UNAIDS Executive Director stated, "The first lady is a model. She helped to take OAFLA to a different level by bringing in other first ladies, using the OAFLA platform to move the agenda of making sure to end mother-to-child transmission of HIV/AIDS and also didn't lose the opportunity to deal with position of women in society and young girls."
Mr Sidibi described Mrs Mahama as humble, quiet but very strategic. He said UNAIDS would continue to work with Mrs Mahama since she is a genuine leader for the fight against HIV/AIDS and global health in general.
For his part, Country Director of UNAIDS, Firma Haile, was full of praise for Mrs Lordina Mahama.
According to him, apart from being the premiere ambassador of UNAIDS, she added cervical and breast cancer campaign and her foundation, the Lordina Foundation was also based on that principle.
Mr Haile mentioned that Mrs Mahama has played a major role in advancing and attaining some of the major results UNAIDS has achieved in Ghana.
Considering the performance of Mrs Mahama, the Ghana country director said UNAIDS is looking at starting a culture of involving former first ladies at OAFLA, of which Mrs Lordina Mahama is the best candidate.