NPP supporters attack school feeding caterers in Ashanti region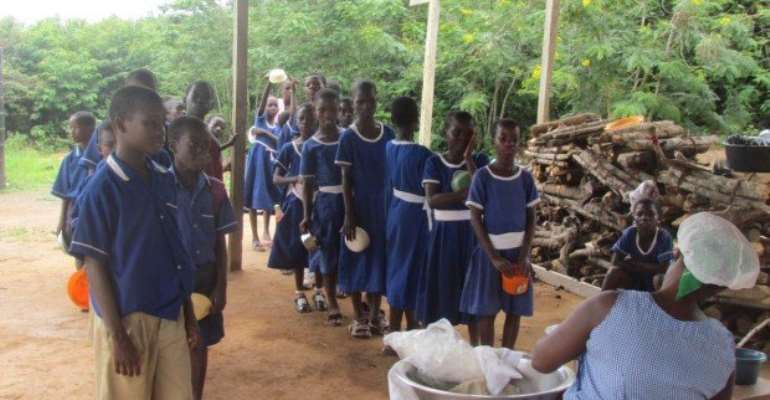 Some supporters of the governing New Patriotic Party (NPP) have allegedly attacked caterers of the school feeding programme at the Ejura Basic School in the Ashanti region.
Eyewitnesses told Joy News the incident which occurred on Thursday, led to the destruction of food prepared for school children.
Since the announcement of Nana Addo Dankwa Akufo-Addo as winner of the 2016 elections, some supporters of the party have taken the law into their own hands confiscating public property.
Aside vandalizing and seizing toll booths, the supporters have tried to take over state institutions like the Passport Office.
The supporters have turned their rage on caterers of the school feeding programme.
A teacher at the Ejura basic school told Joy News the action of the suspected NPP loyalists will cost the children their lunch today.
He added that it seemed the police were overwhelmed by such reports, because when he reported the incident to them, he was told "they were too busy receiving similar cases so I should wait outside."
Member of Parliament for the area, who is incensed by the situation called on the leadership of the NPP to call their supporters to order.
According to Mohammed Braimah, the NPP supporters have been to almost all the schools in the district and destroyed food being prepared for pupils.
"They were going round the schools that are enjoying the school feeding programme and throwing away food that was being cooked and vandalizing the properties of the caterers and assaulting teachers.
"They have gone to almost all the schools in the Ejura Sekyere Adumase where the school feeding programme takes place and they have poured away food which was was being cooked for the children," he alleged.
Mr Braimah said the attitude of the supporters is appalling and "they should call them to order."
He also called on the Peace Council to intervene.
Spokesperson of the police, Sup. Cephas Arthur said the police is on top of the issue.
He said although in many instances, the perpetrators flee before they arrive, they have managed to arrest some.
He said the Service is still investigating the incidents of unlawful seizures and the perpetrators will be brought to book.
Story by Ghana | Myjoyonline.com | Naa Sakwaba Akwa | [email protected]