January 11, 2017
|
Opinions Letters
Letter to the First Lady Mrs. Rebecca Akufo-Addo – Serwaa Akoto writes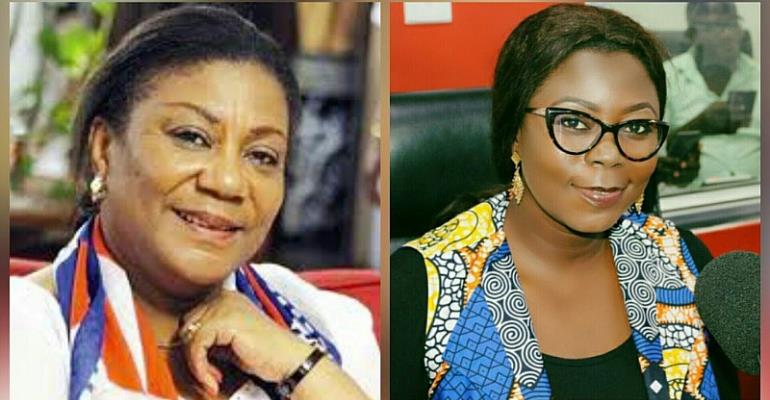 Your Excellency First Lady of the Republic of Ghana, Mrs Rebecca Akufo Addo today I write to you with smiles all over my face for being among the first, if not the first to address you as the First Lady of the Republic of Ghana.
I must first of all say that you and the second lady, Mrs Samira Bawumia were looking angelic during the investiture of your husband the President, His Excellency Nana Addo Dankwa Akufo Addo and Vice President, Alhaji Dr Mahmoudou Bawumia. I saw nothing but women of beauty, nobility and elegance. The event I must admit was colorful, beautiful and a great exhibition of Ghanaian culture but it all ends on the 7th of January.
My first Lady, I have questions I need your answers to but before I proceed, I am on behalf of the female caucus (girls/women) of Ghana saluting you on your new status. I admit you did not get to this stage on a platter of gold. I can imagine the number of sleepless nights of disappointments after counting of votes and declaration of results, not once but twice.
The courage of going through another is even unbelievable, not to talk of the days you have to spend after to console and urge your husband on. I know the story would have been different if your husband, H E Nana Addo Dankwa Akufo Addo had lost the contest the third time.
Madam, there is a saying that "Once bitten twice shy". Not once not twice but three times you had to support your husband to the same course so I am curious my first Lady, how was it for you? How were you able to cope in those times? How did you overcome the defeat? I have heard the president talk to the media on countless occasions on how he felt about the defeats and was able to still forge ahead but the women of Ghana will be more happy to hear your side of the story.
There is the saying that "Behind every successful man, there is a woman' but I will say, behind a successful H.E Nana Addo Dankwa Akufo Addo, there is a self motivated, strong, determined, enduring, intelligent, unperturbed, persevering, patient and focused Mrs Rebecca Akufo Addo. This I know will be a great lesson to most young women who are always in a haste to get to a goal.
Madam, I would be happy to know what you have to contribute to help your husband, the president, H.E. Nana Addo Akufo Addo in his government. Most importantly what you are going to do this 4 year period to improve the lives of Ghanaian women and children and empower women in all endeavors. In as much as there is no spelt out duties assigned to you in the constitution of Ghana, making your position almost a ceremonial one, every first lady has in their own way contributed to the wellbeing of women and children in Ghana.
Mrs Nana Konadu Agyeman Rawling's 31st December Womens' Movement, Mrs Theresa Kufuor's Mother and Child Community Development Foundation, Mrs Ernestina Naadu Mills raising of 2million dollars medical equipment and Mrs Lordina Mahama's Lordina Foundation brought a lot of relieve women and children in Ghana. So I ask again, what will be your contribution?
My First Lady, I am sure you will admit that Ghanaian women who voted for change in the 2016 elections have bigger expectations from not only your husband the President, but you, the mother to all children and women of Ghana.
I will be happy to see you work hand in hand with the 2nd Lady Mr Samira Bawumia. Before I end, I want to believe that Mrs Rebecca Akufo Addo, at the end of this four year term of your husband's administration, Ghanaian children and women will remain grateful and thankful for what you would have been using your position to do to uplift their lives.
Good luck My First Lady.
My name is Obaasima Serwaa Akoto
I am for female empowerment.