11 January 2017
|
General News
Nana Ninsin-Imbeah Meets Mugabe Family In Zimbabwe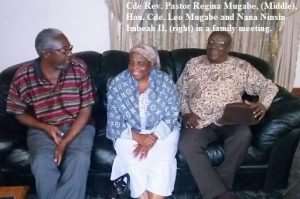 Ex-Nyimfahen of the Mfantseman Council in Ashanti, Nana Nanabanyin Ninsin-lmbeah II has called on the Mugabe family in Harare, Zimbabwe.
The Ex-Chief, who has been in Harare, Zimbabwe, since December 28, 2016, on an urgent family commitment, was received by the family in the absence of the Zimbabwean President, who was in Singapore on his annual vacation.
The Mugabe family, led by Comrade Rev. Pastor Regina Mugabe, the only surviving sibling of the Zimbabwean President and Hon. Comrade Leo Mugabe, a Member of the Politburo & former President of the Zimbabwean Football Association (ZIFA) engaged Nana Ninsin-Imbeah in fruitful discussions.
While in Zimbabwe, Nana Ninsin-lmbeah II also paid a courtesy call on the Ghana Embassy in Zimbabwe and was received by Mr. Michael Sackey, Head Consular, since the Ambassador had been in Ghana after the last elections.
Nana Ninsin-lmbeah II also attended the burial Service of the late Comrade Peter Tapera Chanetsa, the first Chief of Protocol of Independent Zimbabwe, former Governor and Resident Minister of Mashonland and a veteran Nationalist.
He also laid remembrance wreaths on the tombstones of the late Amai Mrs. Sally Frances Mugabe, a former First Lady of Zimbabwe and the late John Rosmond Imbeah, a Ghanaian Graduate Tutor, who met his untimely death through a tragic accident in Zimbabwe. He has since been buried in Zimbabwe.
Nana Ninsin-lmbeah II also attended and represented his family at the wedding of a grandson to a Zimbabwean Lady before he returns to Ghana.
The ex- Mfantseman Council Nyimfahen would be back to Ghana from his two week sojourn early enough to partake in the funeral of the late Asantehemaa, Nana Afia Kobi Serwaa Ampem II, which commences   on January 16 through to January 19, 2017.
By Sebastian R. Freiku