Diamond Appiah Angrily Blast Ghanaians Including Ex. President Mahama for Mocking Nana Addo over Plagiarized Speech.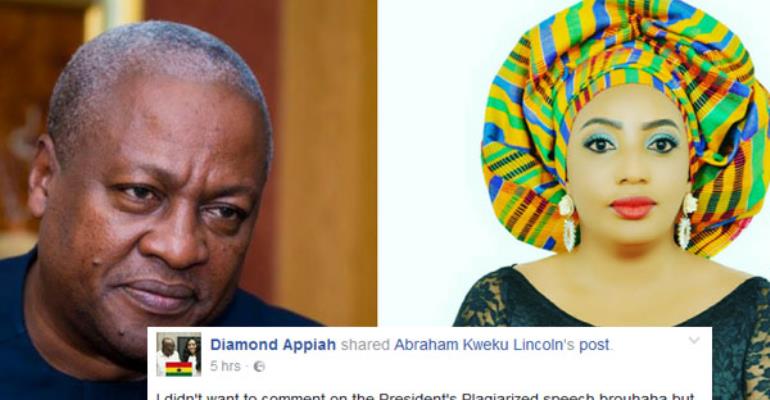 Diamond Appiah – a socialite, musician and an aspiring Member of Parliament in the December 7 Ghana Election has weighed in on the ongoing discussion about President Nana Addo's speech which was plagiarized.
According to Diamond who took to her social media account to express her view on "the President's Plagiarized speech brouhaha". In a long post, Diamond talked about how she did not want to comment on the matter until now.
She made mention of how Africans are always looking out for faults to criticize rather than contributing towards the development of an individual.
"First of all why are we Africans always looking for faults to pull another down? Whether his speech was plagiarized or not how does that affect the Economy of our country n your bank balance as an individual?"
She also noted that President Nana Addo Dankwa Akuffo-Addo is actually not the first person to have plagiarized a speech without acknowledgement.
"Is he the first to plagiarize someone's speech without acknowledgement? I stand to be corrected but did President Obama apologize for plagiarizing other people's speeches? Give President Akufo Addo a break because whether his speech is plagiarized or not wouldn't add or subtract anything to anyone's life." She added to her lengthy post.
As expected of Diamond, she touched on Ex-President John Mahama 's accommodation discussion, mocking John Mahama. She said "All the incompetent babies with sharp teeth like Ahyidoho n Namoale with poor communication skills filled with slips of the tongue should give the most Eloquent n Competent Intellectual a break n take several back seats with their Ex President who is Struggling for Accommodation."
"Their Focus now should rather be on relocating Mr Mahama and his family into a new house so that our Vice President n his family can move into the State property designated for the Vice President. You Jokers should set your priorities straight by finding an Abode for your Stranded Leader at once n leave our NADAA alone."
READ THE FULL POST
<iframe src="https://web.facebook.com/plugins/post.php?href=https%3A%2F%2Fweb.facebook.com%2Fdiamond.appiah%2Fposts%2F10155004468504828&width=500" width="500" height="586" style="border:none;overflow:hidden" scrolling="no" frameborder="0" allowTransparency="true"></iframe>