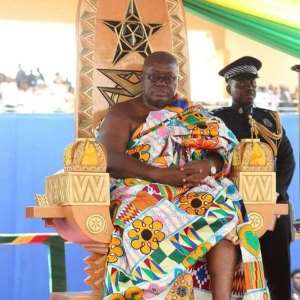 President Nana Akufo-Addo
I did not plan an early onslaught on a baby government which came to power by criticizing even the attire of the then Vice President John Dramani Mahama. What I pledged myself was unflinching support to the incoming government. It all started when late Prof. Mills goofed on pronunciation of the word 'economy' in July 2009. "Madam Speaker, our economy, erh..our ecominy is resilient", he said, and all hell broke loose.
Seven years six months down the line, a worse sin has been committed on a much larger scale than happened in the days of President Mills and 'Yaanom' have put on defensive amours. Musicians like A Plus who made hit songs about Prof. Mills' blunder now thinks it is no big deal. How does this wash?
In democracies where integrity matters the scriptwriters should have resigned gracefully. What happened is another international disgrace which is worse than what occurred on Ghana's 59th anniversary. And as fate would repeat itself, President Uhuru Kenyatta has been part of this ceremony too. I wonder what perceptions he has consolidated about the handlers of our presidents.
I am not a writer neither am I a literary aficionado like Sydney Abugri nor a connoisseur of sort like Chimamanda Adechie, I am only a confused mathematician who has taste for reading great literary works and I so admire the oratory of our President.
We all know how great a speaker Nana Akufo-Addo is and I was not surprised when all commentaries after the inauguration were in praise of President Nana Akufo-Addo. Social media was awash with snippets of the speech and some journalists even posted that the media doesn't have to look for archived tapes from past leaders or elsewhere—The President's inaugural speech is the grandest of sound bites.
Soon after the positive reviews of the President's speech came accusations of plagiarism. I made light of it because I didn't believe it was true. But I was wrong to think the President's speech writers were smarter than their post graduate certificates, indeed I was wrong.
In a continent where beginnings of events are watched with suspicion―as there is a proverb that "a chick that will grow into a cock can be spotted the very day it hatches" ―I believe the speechwriters have destroyed the glorious ceremony that was to mark a great beginning of the change we are going to see.
It reminds me of how students 'dab' in examinations and having caught a whole President pants down, I wonder what WAEC would be discussing at their next general meeting in respect of student's copying as one of examination malpractices. At a time where plagiarism by world leaders has become a big news item for international media following Melania Trump and Buhari's plagiarism scandals, and with an apposition that has adopted a wait-and-see attitude, it is difficult to fathom why the speechwriter's acted so dumb.
As a follower of speeches of the Obamas and realizing that our former President had his script missing at an ECOWAS conference in 2015, I decided to learn about what goes into a President's speech. The Obama's hired Hillary Clinton's former speech writer, by name Hurwitz. She is a Jewish talent with Biblical dimensions.
According to Sarah Hurwitz, who later became the head scriptwriter for Michelle Obama, nearly every speech has to be done with the Obama's as they want their values and personalities reflected in every speech. Here in Ghana, I doubt whether our Presidents mean their words and that Nana was not part of the script-editing as in the case of the Obamas makes me more skeptical.
Who knows whether the parts of the speech that were not attributed to Dankwa, Nkrumah, or Busia were not plagiarized translations of former Chinese, or Indian President's speech? May be we ought to use multilingual plagiarism checkers to ascertain this.
What pains me most is the congratulations they might have received moments after the speech. I sure do believe that Arhin and his colleagues received firm handshakes from some big men and you can imagine the fulfillment that ends with a demonstrative we-made-it hi-fives.
We are a nation of plagiarists: students copy their colleagues during examinations; folks on social media plagiarize motivational quotables to get 'likes'. And I am sure the NPP foot soldiers that are defending the flaw are themselves incorrigible copy-cats with congenital disorders and find it hard to disassociate themselves from their hero. If Change meant remind-me-of-President-Mahama's-speech, then we should have listened to the Nigerians' advice about change.
I can assure them that if this is the kind of defense they we will be giving Ghanaians in response to serious scandals, then eight years of power might seem too long for sane Ghanaians. If a president presents a speech that does not belong to him, how do I believe his words against corruption?
Anyway let us pardon Arhin and his colleagues who are products of the system. But If we 'dabbed' American Speeches let's learn to plagiarize their policies in toto—let President Akufo Addo's cabinet plagiarize the American Dream and defend it too.
I am your Provocative Conscience.
Fredeick K. Kofi Tse
[email protected]