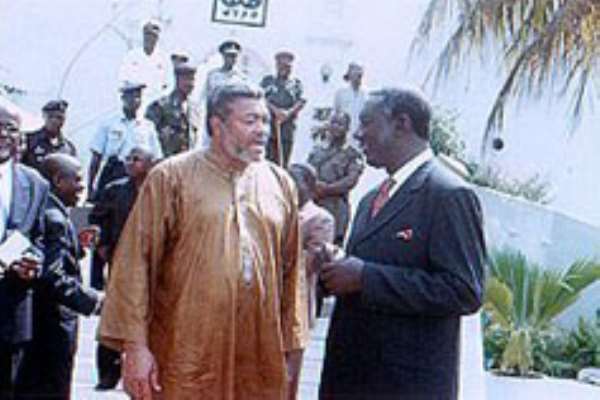 The former president, Flt Lt Jerry John Rawlings has denied that he has a personal problem with the sitting president John Agyekum Kuffuor. According to him, he is just voicing out what he described as gross injustices in the country.
Speaking on Day break Kapital this morning with the host, Kwame Atuahene, Mr Rawlings said many people are wrongfully accusing him of bringing about the disaffection between him and the president but to him, attention should also be paid to how his family has been treated and how continuously attempts are being made by the NPP to criminalize and demonize him and his administration citing allegations about his wife being a cocaine dealer and insults on his family and members of his party. He alleged that president Kufuor has been lying about him to foreign heads of states and diplomats saying that he (Rawlings) is a thief and is planning a coup.
Mr. Rawlings said he welcomes the move by the Christian Council to reconcile him and President Kufuor but insisted that justice needs to be attained in what he considers to be human right abuses in the country to enable him put a stop to his personal crusade against corruption, nepotism, greed and other negative dealings of the NPP. He called for an independent investigation into the death of Yaa Naa, the Serial killing of women, and the Aveyime Rice Project Scandal which resulted in the sentencing of four NDC members.
Mr Rawlings noted that he can give a four hour sermon on what he considers good about the Kufuor administration despite his problems with their administration.