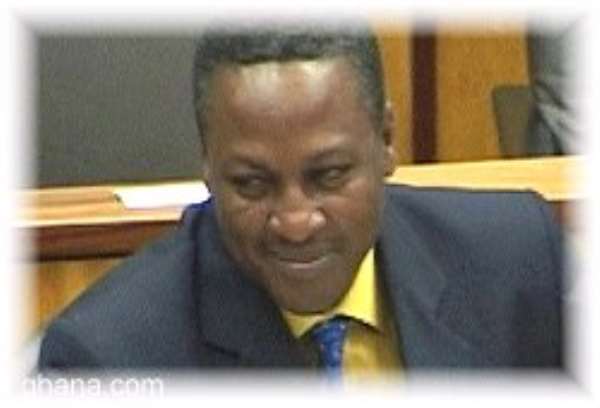 'Kufuor Nie, Ataa Ayi Nie' March 30 (Chronicle) -- THE MEMBER of Parliament for Bole Bamboi, Hon. John Dramani Mahama has indicated that the ex-President, Jerry John Rawlings, must apologize to President John Agyekum Kufuor for comparing him to one of the notorious armed robbers in the country as implied in the recent refrain "Kufuor nie, Ataa Ayi nie."
He noted that even though he (Mahama) was not present at the said demonstration and did not know exactly what happened, if the newspaper reports about the pronouncement are to be believed, then it is a bit unfortunate, therefore the ex-President Rawlings would have to render an apology to President Kufuor for what he said.
Hon. Mahama advised that, as a people, we must be civil with each other to avoid confusion and disorder.
Mahama, who made this submission in an interview with The Chronicle in Kumasi last week, admitted that there is freedom of expression but unlike a country like the US where freedom of speech is so accepted that they can go on demonstration and call President Bush a fool and say all kinds of things because it is within their culture, it does not pertain here.
In our culture it is not easily acceptable for persons like the ex-president and the sitting president to engage in insults. "Our culture finds it difficult to accept this practice," he noted.
He cited an instance where President Kufuor was said to have referred to ex-President Rawlings as "abonsam", meaning Satan, in Takoradi.
He said the President was condemned so much that at a people's assembly, he was compelled to apologize and withdraw what he said.
"I think the same standard should apply to ex-President Rawlings. We should be civil in our doings and guard against those things," he emphasized.
He, however, noted that in a way, the ex-President also feels aggrieved by certain things that happened, like the withdrawal of his vehicles and other courtesies to him as an ex-president so that when he is traveling he is no longer accorded the necessary protocol and makes his own traveling arrangements.
"I think that there is room for both of them to reconcile. In three years or so, president Kufuor would also become an ex-president and I think between now and 2008, there is room for both of them to become civil to each other," he stated.
He jokingly observed that if President Kufuor becomes an ex-president, they would urge them to form an ex-presidents' association so that Rawlings who preceded, would be the president and JAK would be the vice president so that we would have a good number of our ex-presidents conferring often.
Mahama also described the recent examination leakage incident at the University of Ghana, Legon as unfortunate.
He said competition in universities have become so stiff that everybody wants to get first or second upper degrees. As a result of this, people are prepared to do anything including being fraudulent to gain those things.
He believed that the security in the system appears to have broken down since, as such widespread exam malpractices were not common in the past.
"It has become such a common phenomenon these days and if we don't take steps to guard against it, it will devalue the credibility of degrees we award, and other foreign universities might not accept certificates from our universities. It could also be refused when searching for a job, that is, if people identify our universities with exam leakages and lecturers' involvement in degrading results."