War Is An Option To End Jammeh Brutality In Gambia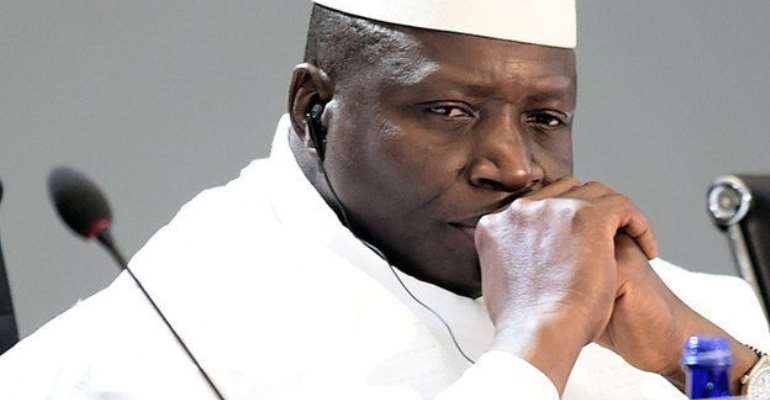 Total fear and hopelessness grips most people by the thought of war as way of forcing Yaya Jammeh out of power. With $300 million estimated cost of war to unseat Jammeh, what pride does he enjoy from that? Does this war monger really care about Gambia after shooting and looting the nation for over 22 years? If Jammeh chooses war, there must not be any negotiations. By 19 December 2017, truth will prevail. Gambia has to be without Jammeh and his gang of economic criminals and murderers. They have taken the nation hostage for 22 years and that has to end.
Here are some reasons why war on Jammeh is the best way out:
1. From 22 July 1994, Jammeh waged war on Gambians which continues in his 22 years rampant killings for rituals or as means of instilling fear. Gambia under Jammeh has been the worst brutal police state where secret killings are conducted by commands of Yaya Jammeh. Bodies of Jammeh's cruel killings are not recovered to be accorded decent burial by their grieving families, friends, and sympathisers.
2. When Jammeh is permitted to stay on as president of Gambia, his desire to kill more people will be fulfilled with worst situation. Already, bulk of Gambian population have shown their dislike for Jammeh and want him out. Jammeh is very furious about public rejection and wants to revenge. He has nothing to offer but bitter pay back on innocent persons.
3. War in Gambia will mean some people have to get killed. Without war many people will be killed by Yaya Jammeh as his way of revenge on those that openly rejected him. To keep Jammeh in power means he will continue killing. To wage war on him means he will be stopped, possibly arrested or killed. By leaving him to stay he will become more dangerous and hostile to innocent Gambian population who already demonstrated their total dislike for him. Besides, Jammeh has no plans of taking Gambia forward. His only ambition is to continue milking the Gambian economy and finance while looming large over the population. Anyone who dares question him will be seen as enemy deserving to be killed.
4. Unseating Jammeh by force will end all the madness he so brutally exerts on helpless victims. To let him stay is like permitting war on Gambians where Jammeh alone controls all deadly weapons and commands dangerous men and women in the army to shoot and kill innocent persons. War to end Jammeh's rampant killings is salvation for Gambia. Leaving him to stay on means he will continue to kill and brag about his powers over any army on this planet. Something needs doing about this state of affairs.
4. Jammeh has been preaching war and trading on fear as way to control the population. Let nobody fear about Jammeh's empty talks. Remember, when there is war, Jammeh will not continue to be president. If he is not president he will not have power of command where Gambian army under his orders will shoot and kill willy-nilly. Besides everything, what everyone in Gambia needs knowing is that Jammeh's weapon power is like spark of match sticks when compared to the combined forces ready to tackle him dead or alive. It will be interesting to prove that after all, Jammeh is not that powerful. He is nothing near Saddam and Gaddaffi. Never be afraid of Jammeh. He is trading his own life and wants many more people dead with him. That does not make him any hero. There is no time for negotiation. As Jammeh pushes for war, let him have it.