26 December 2016
|
Middle East
Aasu Celebrates Centenary Birth Year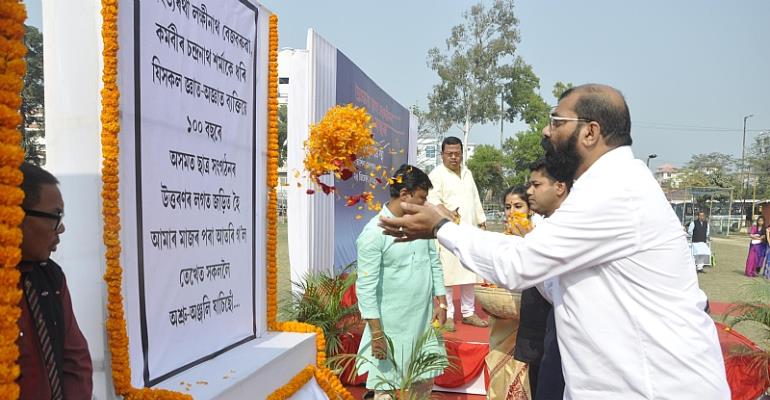 Guwahati: All Assam Student's Union (Aasu), which is more known as the prime mover of six years long Assam agitation against illegal Bangladeshi migrants in Eighties, observed on 25 December the completion of hundredth years of the birth of the student organisation in the State.
The central function was organized by All Guwahati Student's Union (Agsu) at Latashil playground in the city, where the first student body of Assam named Asom Chatra Sanmilon was on 25 December 1916 under the presidentship of Sahityarathi Rasaraj Lakshminath Bezbaruah. In presence of hundreds distinguished personalities from different sections in the society at Latashil, the centenary flag was hoisted by Gauhati University vice-chancellor Dr Mridul Hazarika.
It was followed by the tribute-paying ceremony in honour of the doyens of Assamese society by everyone present at Latashil braving the morning sunshine including Aasu advisor Samujjal Bhattacharya, its president Dipangko Kumar Nath & general secretary Lurinjyoti Gogoi, Agsu leader Bipul Rabha along with others.
Addressing the gathering, Bhattacharya opined that the students'movement in Assam was always for the all-round development of the State. He remembered the contributions of all pioneering efforts generated by Bezbaruah, Chandranath Sarma with others at the auspicious moment. Bhattacharya also asserted that maintaining its non-political character, the Aasu would continue working for the genuine rights & privilege for all indigenous communities of Assam.
To commemorate the day, various branches of Aasu today unfurled 100 flags in different parts of the State. The centenary flag was designed by noted Assamese artist Biren Singha, who was also present on the occasion at Latashil playground.