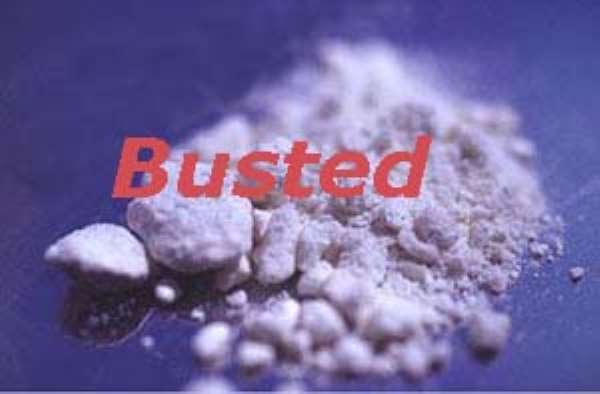 Accra, March 25, GNA - Two persons were on Friday arrested at the Kotoka International Airport, attempting to smuggle narcotic drugs. Yahuda Shadoona aged 32, was arrested with 1.3 kilograms of a substance suspected to be cocaine concealed in his canvas as he prepared to board a flight to Germany.
Yahuda, a mechanic, who had lived in Germany for 13 years, told security agents that he bought the drugs at Kumasi for 13,500 dollars from a man he could not identify.
Security agents said his accomplice, Ali Mashood, offered a bribe of 4,000 dollars after Yahuda's arrest but it was rejected. Francis Asamoah, 48, was arrested as he prepared to board a flight for Spain with 99 pellets suspected to be narcotics concealed in his socks.
Asamoah said a Nigerian called James introduced him to the drug business. James paid for his airfare to Accra and introduced him to one Robert, who gave him the drug at 2,500 dollars. Security agents said Asamoah had travelled from Spain to Accra four times from December 2004 to March 2005.