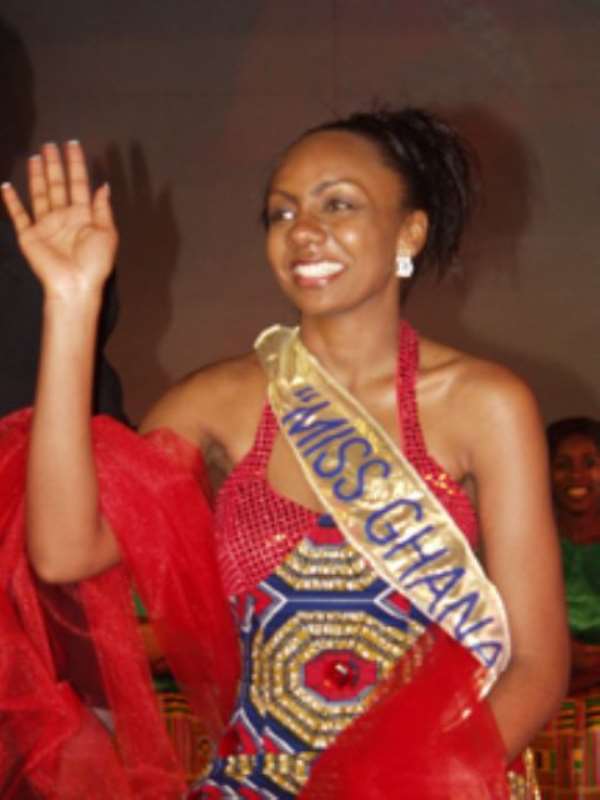 Miss Ghana 2004 Inna Marian Patty almost broke down in tears on Wednesday when she was refused entry into the Manhyia palace for a scheduled courtesy call on the Asantehene, Otumfuo Osei Tutu II.
The beauty queen was refused entry because she was over an hour late for her appointment with the Asantehene. Inna Marian Patty could not stand the embarrassment at the palace reception when she was told her appointment had been cancelled.
The Palace attendants told journalists that His Majesty Otumfuo Osei Tutu II ordered the cancellation after Marian failed to show up at the time agreed.
The 2004 beauty queen was supposed to have been at the Manhyia Palace at 12.30 but she showed up at about 2 pm.
As though she wanted to cry, Marina turned to blame her managers for the embarrassment.
Marian who threw her hands up on the air in apparent demonstration of her disappointment, publicly blamed her managers for taking her for an interview on a local radio station earlier.
Sources at the Manhyia Palace said at the time of the radio interview that lasted for an hour, Otumfuo was still waiting for Marian.
The source said Otumfuo was not pleased at the delay and therefore ordered the cancellation.
LUV News investigations have also established that the beauty queen and her team could not avoid the embarrassment because they had been late for the radio interview resulting in their having to eat into the agreed time for the Manhyia Palace.