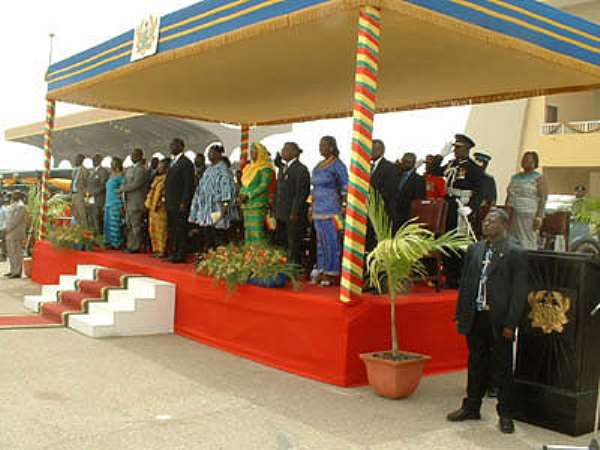 GABORONE - Ghana is a beacon of democracy in a region characterised by conflicts and instability, director of Africa and Asian affairs in the Ministry of Foreign Affairs and International Cooperation Manyepedza Lesetedi has said.
Speaking at the Ghana's 48th Independence celebration in Gaborone Lesetedi said Ghana was an example to be emulated by many.
This will enhance the culture of democracy, respect for human rights and the distinction role that Ghana has played in organizations such as ECOWAS, African Union, and the United Nation.
He urged Ghanaians in Botswana to take pride in the political advances their country had achieved over the years.
Lesetedi further extolled United Nations Secretary General Kofi Annan, who is also Ghanaian, as an illustrious son of Africa who has provided visionary leadership at international level.
He said under his UN leadership a number of reforms have been undertaken to strengthen the contribution of the world body to human development.
Lesetedi said the secretary general recently initiated yet another thought provoking report on the democratisation of the organisation, including the Security Council.
Our country is encouraged by these initiatives which I believe should give developing countries an enhanced participation in decision making on crucial issues affecting them, he said.
He said Botswana and Ghana enjoy warm bilateral relations, therefore it was important that the two nations must consolidate existing co-operation and explore new areas of collaboration for mutual benefit.
Speaking on behalf of Ghanaians in Botswana the Honorary Consulate of Ghana in Botswana, Julia Sarkodie- Mensah said she was grateful for the cordial relationship between the two countries which she said had attracted many Ghanaians to work and live in Botswana.
This enabling environment has attracted Ghanaians to work in various sectors of the civil service, private sector, and many have left their trade marks or legacies through intermarriage and others.
Sarkodie-Mensah took the opportunity to officially announce the Ghana-Botswana Expo scheduled to take place in Botswana from May 4 to 8 this year.
She said the Expo would showcase Ghana in Botswana and bring to the forefront the trade and investment opportunities available in the two countries.
The Expo will be four days of exhibitions, seminars, cultural displays, and workshops on investment opportunities and procedures both in Botswana and Ghana, she affirmed.
The multicultural event attracted a lot of people including the Former first Lady Olebile Masire.
Award certificates were given to members of Ghanaian Association in Botswana for the grateful work they continue to do to keep Ghanaians together to feel home away from home.
Sarkodie-Mensah was given a certificate and a furniture gift for being the mother of the association.