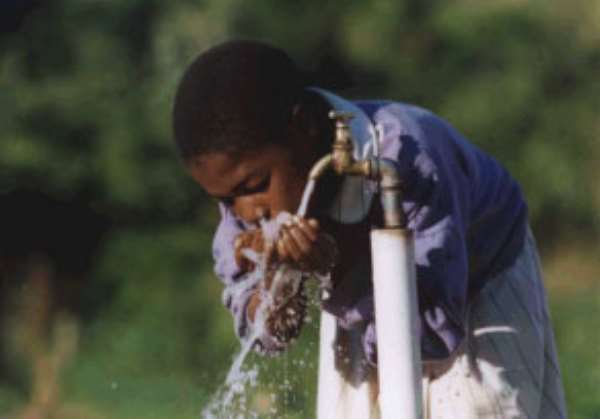 Larteh (E/R), March 22, GNA - The Regional Municipality of York in Ontario, Canada has donated two water booster pumps to facilitate the supply of potable water to Larteh-Akuapim in the Eastern Region. The funds for the shipment and clearance from the Tema Harbour were raised through donations and voluntary contributions of members of Ewuebi Fekuw in Canada and USA and Larteh Association in the United Kingdom (UK).
A statement issued on Tuesday said Mr Thomas Yirenkyi, Chairman of Ewuebi Fekuw Toronto, Canada, presented the pumps to the people through the Akwapim Guanhene, Osabarima Asiedu Okoo Ababio III.
Mr Yirenkyi expressed the hope that the installation of the two water booster pumps, each of which is capable of pumping about 5,100 litres per minute, would considerably improve the water supply situation at Larteh, which is located at about 492 metres above sea level on the Akwapim Range.
Osabarima Okoo Ababio thanked the Regional Municipality of York, for the generous donation, which, he said, would considerably improve the standard of living in Larteh.
He also thanked the members of the Larteh Ewuebi Fekuw of Canada and USA, and the Larteh Association (UK) and other citizens, who through their various roles ensured the safe delivery of the pumps.
Nana Kwatei Agyemfra Okatekyire II, Larteh Kubeasehene, said the installation of the pumps would not only relieve the people of the perennial shortage of water and waterborne diseases but also improve upon farming and market gardening in and around Larteh.
He expressed the hope that the kind donation of the water pumps would form the basis of establishing firm bonds of partnership between the Regional Municipality of York and the Chiefs and people of Larteh.