10 December 2016
|
Tributes & Condolences
Maj. R.O. Botchway: A Life Well Lived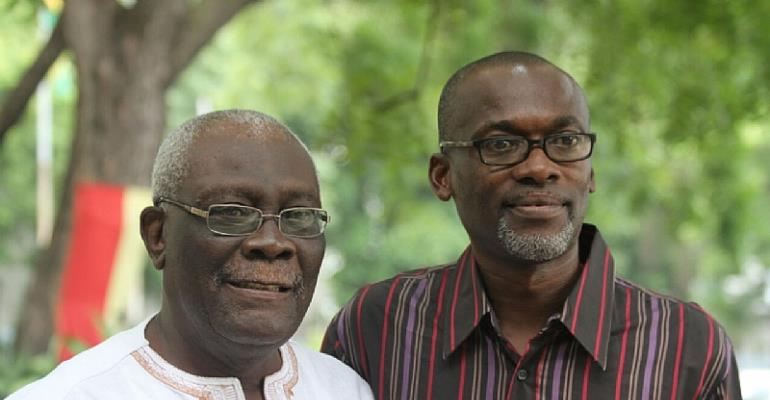 The outpouring of love and support following Maj. Richard Nii Osai Botchway's (Rtd) passing on Friday, October 28, 2016 has been rather overwhelming. Uncle RO as he was affectionately called, had a very positive impact on my life and I know he also influenced many others.
In spite of the age difference, Uncle RO related extremely well to me. He was the classic people person and got along with all regardless of age or other labels. My dad, a fellow military officer was over 10 years his senior however, he and Uncle RO had an incredibly close and mutually-respectful relationship.
Growing up I experienced the very strong bond between my parents and his nuclear family. His loving wife, Auntie Aggie's grandmother was my maternal Grandfather's (Mr. Geoffrey Ezekiel Abbey-Mensah) sister.
As the story goes, a little over half a century ago, Uncle R.O was one of the young soldiers my dad took a strong liking to, and invited to the house for meals quite regularly. I am told that my mum indirectly played matchmaker by introducing auntie Aggie to uncle RO during one of his many visits to the house. The couple were united in marriage in 1970 and were married for 46 years at the time of his passing.
Common grounds
There were quite a few interesting parallels between my parents and the Botchways. My late dad (Col. Peter Mama Agbeko) and uncle RO were both military officers; my mum and auntie Aggie were both trained teachers/head teachers working within the Burma Camp education system, and for many years, our two families lived within walking distance of each other.
Fond memories
Uncle RO was keenly interested in my personal and professional development. We had many memorable and enjoyable discussions and conversations about endless topics. He was always spot-on and timely with his wise counsel and guidance. He had a running joke whenever he saw me for something I said as a child. I'm told that I regularly enquired from uncle RO what it meant when people said "yeat your food", my actual question being "eat your food". Thankfully I grew out of that grammatical challenge but Uncle R.O. made sure I never forgot.
I vividly recollect a mind shaping conversation with uncle RO when I was about 10 years old. The son of my dad's driver who lived with us gave me an object which unbeknownst to me was supposed to be a performance enhancer. With his usual keen eye, uncle RO spotted the strange & offensive object around my neck the very day it was offered me, and he gave me a lecture on the importance of being morally upright at all times.
I remember immediately taking off the "offensive object" and throwing it away with all the strength I could muster. The artifact actually turned out to be a harmless talisman. Nonetheless that teachable moment deployed with the old Major's brand of tough love has stayed with me my entire life.
Sports was a big part of growing up in Burma Camp in the seventies. Football, table tennis and bicycle racing were some of my favorite pastimes. I am reminded of another memorable personal childhood interaction with uncle RO. As a teenager he gave me regular access to his adult Raleigh bike which was much faster than my trendy but slow Raleigh Chopper. This incredibly generous gesture was the envy of many of my peers but for me, it further strengthened my bond with Uncle RO.
I have so many fond memories of Uncle RO that will live with me forever. I am especially grateful because he gave me the greatest gift anyone could give to another – He believed in me! And taught me so many valuable life lessons.
Family life
His marriage to his sweetheart Agnes Odookai Botchway (née Odoi) in 1970 was blessed a few years later with a daughter, Gifty-Joy Naa Otsua Botchway (Abban). He was a loving and caring husband and a doting father to his only child, Naa. Perhaps by universal design or inadvertent imitation of my favourite uncle, I have one child only, a daughter I also named Naa.
Uncle RO was blessed with three wonderful grandchildren; Samara, Stephanie and Sean.
The last I saw and spoke to uncle RO was in late August this year when I was discharged from hospital after a brief ailment. Coincidentally or again maybe divinely sanctioned, we were both admitted to the same hospital ward about the same time.
When my dad passed in June 2014, uncle RO led the charge in planning and organising the military funeral. He worked tirelessly on every detail and necessary protocol arrangements. After the funeral, he summoned my brothers and me to Burma Camp to personally thank all those that had facilitated and provided any kind of assistance. Such was the measure of the man! He was thoughtful, kind, caring, meticulous, intelligent, and the list goes on. I am eternally grateful and honored that our paths crossed in this journey called life and will forever relish and treasure all the wonderful memories. Until we meet again, rest in peace Uncle RO.
Biography
The late RO Botchway was born on Monday January 1, 1940 at Akuntanse in the western region of Ghana to Mr. Robert Quarcoo Botchway (A retired Railway Station Master) and Madam Emelia Lankai Lamptey both of blessed memory. He was the 4th of 13 children.
Education
He attended Akwei Memorial School for his primary education and proceeded to Wesley Grammar High School where he successfully completed his West African School Certificate in 1960. In furtherance of his childhood ambition of serving in the military, he enlisted in the Ghana Army and attended the Ghana Military Academy from 1961 to 1962.
Between 1963 and 1970, he successfully completed several courses offered by the military including; Platoon Commanders Course, Fire Officers Course, Company Commanders Course, Non-Public Accounts Course and Junior Defence College.
He also attended the Ghana Institute of Management & Public Administration (GIMPA) where he graduated with a Post Graduate Diploma in Public Administration in 1981. Between 1982 and 1983, RO enrolled at the Senior Staff College and graduated, Passed Staff College (PSC).
Professional Career
He served the Army and people of Ghana with 22 years of loyal service. During that time he held several positions and command responsibilities. He was Platoon Commander, 5th Battalion of Infantry (1962); Instructor, Armed Forces Training Centre (1963-1965); Staff Captain 'Q' HQ 1 Infantry Brigade Group (1965-1967); Company Commander, 6th Battalion of Infantry (1967); Adjutant,3rd Battalion of Infantry (1969); Company Commander, 3rd Battalion of Infantry(1970-1973); Personnel Staff Officer, Army Hq (1973); Staff Officer Grade II Int. Army Hq (1974); Secretary, Immigrant Quota Committee(1975-1977);Staff Officer Grade II OPS & Plans (1978-80);Chief Tactical Officer, School of Infantry MATS and Chief Instructor, School of Infantry MATS(1981-1982). In 1979, he served with the United Nations Interim Force in Lebanon on Peacekeeping Mission. His final position was General Staff Officer Grade I Hq. Support Service Brigade in 1983.
A major highlight of uncle RO's career was his appointment as ADC (Aide-de-Camp) to the then Head of State Lt. General Joseph Ankrah, Chairman of the National Liberation Council & Head of National Defence Council from 1967 to 1969. After his retirement, RO held positions with the Retired Commissioned Officers Association.
Uncle RO's wealth of managerial experience and administrative acumen was most sought after by many companies after he honorably retired from the Army.
From 1985 to 2003, he was Head of Administration for Textile Trico Manufacturing Co. Ltd/Nsawam Foam Company Ltd, Domod Company Ltd, Household Aluminum Factory, Nsawam Cannery Prod. Ltd and La Bakery & Pastry Co. Ltd
Social Life
Uncle RO was a staunch Anglican and had practiced faithfully ever since his confirmation at the St George's Garrison Anglican Church. He openly professed his faith and the teachings of the Church; and played an active and dedicated role in the Men's' Fellowship society.
He was outgoing and friendly and often shared the many humorous stories of his illustrious military career. He was an avid music lover who kept a large library of classic and contemporary records. He also played the bass guitar. His warm and charming personality effortlessly made him the center of attention and the peoples' man. He was very generous and was always willing to share what he had, especially to those less fortunate. He was active in sports and played Soccer and Tennis for a very long time.
The many trips to Burma Camp are perpetually etched on my mind. We would meet regularly at The Retired Commissioned Officer's Club (RCOC) and proceed to Burma Camp to do our business of the day.
As my younger brother, Phil aptly put it: "He was truly the epitome of an officer and a gentleman!!! Today, I stand proud to eulogise my dear uncle for his many enduring qualities. Uncle RO was a class act and he truly lived life to the fullest.
May the Lord grant him perfect rest!
Funeral Arrangements
The burial will take place at the Osu Cemetery in Accra on Friday, December 16, 2016, after burial service at the St. Catherine's Catholic Church, Burma Camp at 8am. Final Funeral Rites will follow immediately after burial at the Arakan Officer's Mess, Burma Camp.
He is survived by his wife, Agnes Adookai Botchway, his only child, Mrs. Gifty Joy Naa Otsua Abban, three grandchildren and a loving extended family.