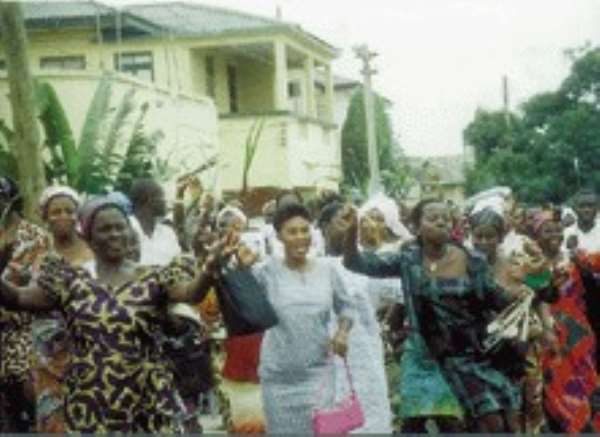 Kumasi, March 20, GNA - The Christian community in Kumasi observed Palm Sunday with the jubilant mood reminiscent of the tumultuous cry of victory that greeted Jesus when he triumphantly entered Jerusalem. The waving of palm branches, woven into neat braids and decorated with flowers, coupled with the singing of hymns and songs, summed up in "Hosanna our King cometh", was the common scene in most of the denominations in the metropolis.
In a sermon at the Saint Paul's Catholic Church at Amakom, Reverend Father Philip Opoku Nyame, the parish priest, urged Christians to let the triumphant entry of Christ to Jerusalem to revive their shaken faith.
He cautioned Christians against craving for wealth at all cost at the expense of their spiritual development and growth since that would only amount to undermining their faith in Christ.
Rev Father Nyame challenged Christians to rather strive for righteousness and honesty in all their endeavours.
He made it clear that righteousness was the key to fulfilment of one's desires and needs by God and should not be taken for granted or forsaken under any circumstances.
At Hemang-Buoho, the Reverend Father Andrew Amoakohene-Tawiah, parish priest of Saint Mary's Sanctuary, called on Christians to exhibit a high sense of tolerance and submissiveness in their lives. He said if they abide by these principles, most social conflicts and misunderstanding of issues in the society would give way to peace, unity of purpose and spiritual development.
The Rev Father Amoakohene-Tawiah said the procession and the celebration of the Day signified the invitation of Christ into their lives, adding that inviting Christ into one's life meant complete change of heart and character.
"God appreciates all services from people who are selfless and truthful and not people who do not show remorse for their wrongs", he said.
He asked the congregation to lead lives worthy of emulation to the glory of God. 20 March 05