Vincent Odotei Sowah Floors Namoale To Clinch La Dadekotokpon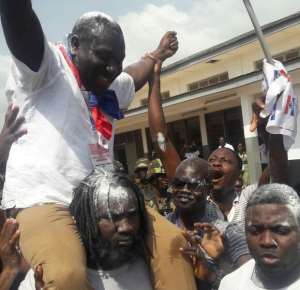 At the La Dadekotopon Constituency collation centre supporters of the NPP are waiting patiently for the final declaration of the results by the Electoral Commission to enable them start jubilating.
But the presence of armed military officers who have surrounded the whole area with armoured vehicles has put the supporters in check.
Collation is still ongoing but judging from provisional results so far gathered.
Nii Amassah Namoale, after being the Member of Parliament (MP) for the La Dadekotopon Constituency for three conservative four-year terms has lost the seat to the NPP candidate, Vincent Odotei Sowah.
The officials from the EC who received the boxes from the various polling stations were only three from more than 200 polling centres causing a delay in the process.
During the 2012 elections by 4.00am, results from the Constituency had been declared already.