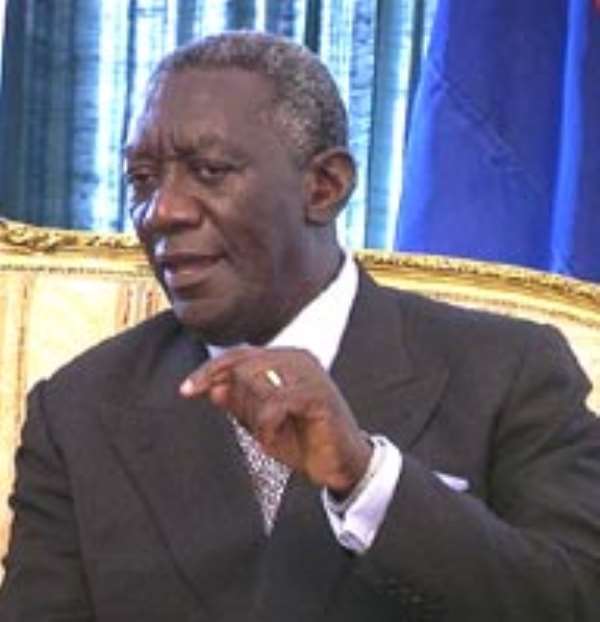 Cape Coast, March 19, GNA - President, Mr John Agyekum Kufuor on Saturday repeated calls on professionals, who are deserting the country in search of greener pastures to consider the harm the are causing the nation and put a stop to the practice. He said the exodus makes Ghana poorer in terms of skilled human resource base as a result of the shortages of skilled professionals in the health, education and other sectors. The President expressed these concerns in a speech read for him by Papa Owusu Ankomah, Minister of the Interior at the congregation ceremony for the 2002 and 2003 graduants of the Cape Coast Polytechnic. Of the 822 graduants, who were presented with Higher National Diplomas (HND) in Engineering, Business and Management Studies and Applied Science and Arts, 38 had First Class Division. President Kufuor said the cost of education was expensive and asked the graduants not to forget that they owed the nation a duty to stay and serve the citizenry. He said it is the only way that the citizenry could reap the fruits of their sacrifices and urged them to be courageous in starting new ventures as many of the multi-national cooperation today like Microsoft, General Motors and other big international companies begun with just the vision of one or two determined individuals
He reiterated government awareness of the importance of polytechnic education in national development as evidence by its massive injection of funds for the provision of several infrastructure and training equipment.
President Kufuor, in this regard, called for a stop to the practice whereby polytechnics are closed for long periods due to strikes, saying that this situation was counter productive. He pointed out that dialogue was the best method of getting solution to problems and not threats.
He said such things could create mutual suspicions and dissatisfaction.
Dr John Borsah, Principal of the Polytechnic appealed to the Ministry of Education to increase the institute's share of the GET fund allocation to enable it to meet the increasing demands for infrastructure and training equipment.
He expressed gratitude to the government for the development projects the Polytechnics had received so far among which are a 280-bed student hostel, a modern administration block and a 250- gallon capacity water tanker.
Mr Benjamin Ofosu Addo, chairman of the Polytechnic Council appealed to the graduants to pay back the SSNIT loans they had contracted during their training.
He said that was the only way through which the scheme could be sustained to benefits other students
He commended the government for the five vehicles it donated to the institute through the GET fund at the ceremony and said it would go a long way to solve its transportation problems.
The government had earlier donated four Toyota pick-ups and a 58-seater bus worth 1.5 billion cedis to the Polytechnic.