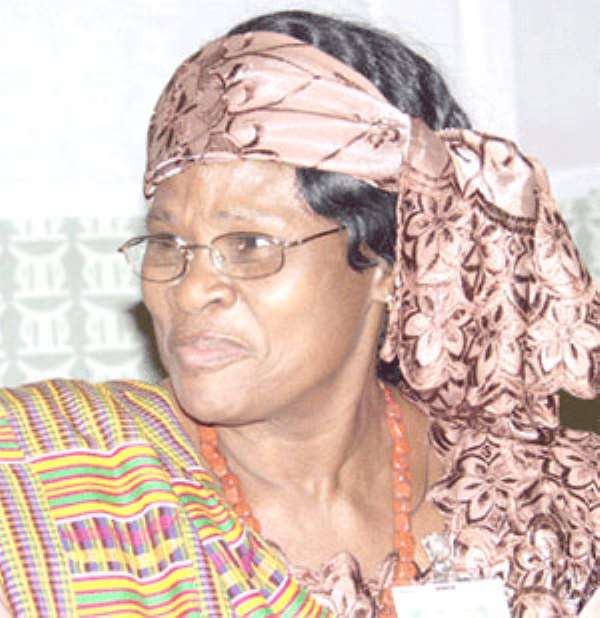 A thirty-six year old lady, Georgina Nketia Asmah, parading the corridors of power as the daughter of Hon. Gladys Asmah, the Minister of Fisheries is in police custody for allegedly defrauding a number of unsuspecting Ghanaians.
Information reaching the Public Agenda indicates that, Georgina has been on the police wanted list for the past three years for allegedly posing as the daughter of the minister to outwit her victims. Luck however, eluded her last Thursday, when upon a tip-off, police officers from Tesano Police Station arrested her at her residence at Akweteyman, a suburb of Accra.
As a result of the complexity of her activities, Tesano Police fast tracked things and arraigned her before the Amasaman District Magistrate's Court the following day, during which she admitted to having collected ¢39.8 million from two complainants, who were also in court. The court, which was presided over by Mrs. Mills, then remanded her for a week in order to give the police ample time to delve deeply into various allegations leveled against her.
In her earlier caution statement to the Tesano police, Georgina alleged that Alhaji Moctar Bamba, a former Deputy Minister was her main connection man at the castle.
"I played my part of the game but Alhaji failed to honour his part" she sobbed. Narrating his story to the Court last Friday, one of the complainants, Kofi Asante, said somewhere in the middle of 2003, Georgina approached him and introduced herself as a Traveling Agent who works with Ahlaji Bamba.
She then convinced him that she could secure him a visa with the help of Alhaji Bamba. Kofi Asante said he therefore hurried to Sunyani to inform a friend who gave him ¢9.8 million to work out things for him (the friend) to get the visa. Georgina, upon collecting the money, bolted until 10th March 2005, when she was arrested from her hideout.
The other complainant, Mr. Baffour Stephen, also said that Georgina introduced herself to him sometime around the middle of 2003, as a daughter of Hon. Gladys Asmah and had 'connections' at the castle.
According to him Georgina said among other things that a fleet of cars at the castle was about to be auctioned and that she was ready to help him (Baffour) to buy three VW gulf saloon cars at the cost of ¢10 million each.
Baffour said he then gave out ¢30 million to Georgina to cover the cost of the three VW cars. But in his subsequent meetings with Georgina, she gave the impression that Alhaji Bamba was working out things to help her get the cars for him until she went into hiding.
Public Agenda can confirm that Georgina would be arraigned before the Amasaman District Magistrate's Court today. As at the time of going to press, a third docket was being prepared against her on a similar charge of defrauding. Attempts to get in touch with Hon. Asmah to confirm if Georgina was her daughter, proved futile since she had traveled outside the country, according to Cynthia Amingor, a staff at the Ministry of Fisheries. Sources close to Public Agenda, however, indicate that 'Georgina Badu' is her original name and that she has no blood relation with the Hon. Asmah. Nevertheless, Georgina once lived with the Minister as house help.
Public Agenda has learnt that a serving minister and a former deputy minister (names withheld) are reportedly working behind the scenes to provide legal aid to Georgina. Public Agenda is investigating the involvement of these top men in the case and will keep readers updated.
WHAT A FORMER LOVER SAYS ABOUT GEORGINA:
Mr. Fuseini, a dealer in cars at the Achimota Overhead and a former husband of Georgina Asmah, corroborated our story when she confirmed that Georgina is not a biological daughter of Hon. Gladys Asmah but once lived with her as a house-help.
"The minister was the one who received the dowry when I married her and has since been like a mother to her", he explained.
When asked why they separated, he had this to say. "We never separated. I traveled to Libya last year and after six months was repatriated.
Unfortunately, when I was about to enter our room she came out immediately to announced to me that she was married and that I should not do anything to destroy her marriage. I therefore packed bag and baggage and have since been staying with a friend".
Such was the end of the love story between Fuseini and Georgina.