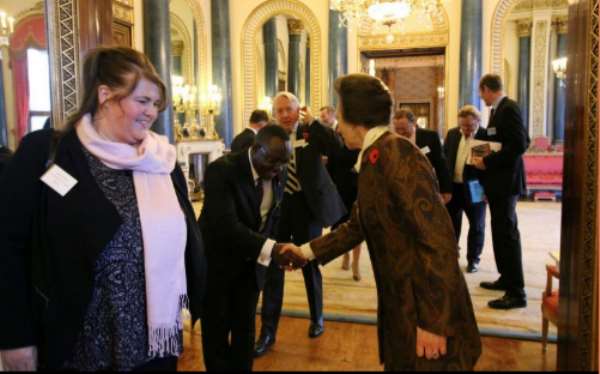 HRH Princess Anne welcoming Ivan Quashigah, a trustee of the St. Nicholas Foundation to the launch at Buckingham Palace
The Chaffinch Trust, a charity that brings organisations together worldwide to address, the issues of specific projects has been launched by Her Royal Highness, Princess Anne at Buckingham Palace.
HRH Princess Anne, 66, best known for her charitable work hosted an afternoon reception at the Palace on November 10 to celebrate the official launch of the charity.
The Princess Royal, as Guardian of The Chaffinch Trust, welcomed over 230 guests representing many organisations including Save the Children, Swinfen Telemedicine, Rotary International, British Red Cross, The International Federation of The Red Cross and Red Crescent, the Humanitarian Forum, The Duke of Edinburgh's Award and the Disasters Emergency Committee.
The Trust encourages charities, organisations and individuals to collaborate and work together to improve conditions for those living in disadvantaged areas.
"We are delighted to announce that HRH Princess Royal has kindly agreed to become the Guardian of Chaffinch" said Ben Goss OBE Chairman and Founder of the Chaffinch Trust.
Goss, noted: "The Trust is as diverse as it is different. All those at this reception share common aims and values, and strive to initiate and support projects to provide education, clean water, sanitation, medicine, shelter and employment - both in the UK and around the world".
"We are currently working with many local charities in Britain. Further afield, we have active links with local charities in Malawi, The Yemen, Madagascar, Kenya, Latvia, Brazil, Guatemala, Nepal and Ghana. Projects in other areas are planned".
In January 2015, a five-member delegation from the Trust led by its founder paid a three-day working visit to Ghana to explore areas of cooperation.
Other members of the delegation were: Brian Kelly, Jane Reynolds, Andrew Cowderoy and Suzy Belcher.
As part of the visit the delegation held stakeholder meetings and explored avenues for collaboration and cooperation. Mr Goss intends in the future to return to Ghana to further assist the charities identified during his initial visit.
Ben Goss and a group of Advisors and Ambassadors that includes Deborah Eleazar of the Tsakos Group and St. Nicholas Charity Foundation (Tema Newtown) volunteer their services.
Mr Goss said the Charity supports people in organisations to work more closely for the greater benefit of all, adding: "We were in Ghana to learn about the country, its needs and dreams and explore how we can collaborate."
The Trust works with many charities including Rotary International, Sight Savers, Telemedicine and the Swinfen Trust, Village by Village, the Wildlands Conservation Trust and St Nicholas Charity Tema Newtown.
Individuals and groups approach The Trust with projects that will benefit from collaboration.
Deborah Eleazar, Ivan Quashigah, and Joanne Milne (formerly Director of Centre Point Charity) Trustees of the St. Nicholas Foundation attended the launch at Buckingham Palace.
"All who attended the reception at Buckingham Palace joined me in thanking The Princess Royal for her support with our current work and we look forward to her active involvement in the years to come", said Goss.
We have adopted a framework that maximises our collective influence by combining the resources, expertise and experience of many charities. We are able to support many more people around the world by providing them with opportunities to fulfil their potential.
"I am delighted that our work has been recognised at Buckingham Palace. We endeavour to bring a fresh approach to shared challenges, and to prevent charities competing.
The St. Nicholas school project with the motto: "Every child has a right to education.", was initiated by the Maria Tsakos Foundation in 2012.
The project seeks to improve the lives of disadvantaged children living in the deprived Tema Manhean community, by providing education that will enable them to progress to higher levels of education.
Beginning with 28 children, the school now has 110 pupils in 7 classes with 12 permanent teaching staff. Captain Kappas whilst based in Ghana has undertaken to expand and build a two storey school in addition to the existing buildings using all local builders, resources and ensuring employment for the surrounding area.
The school has already received valuable assistance from Swinfen Telemedicine with critical medical advice given for an accident that one of the children had during the Easter holidays and the care, empathy given at the time was amazing.
Current sponsors include: Vodafone Ghana, British Airways UK, , Sea and Shore, Atlas Copco, Blue Chip It Specialists, Leon Shipping, Lotus Shipping, Our Lady Queen of Peace Church Richmond UK, Teabag Charity, QBE Insurance and Teabag Mankoadze, Sailor's Society, Soutos Maritime, Tsakos Hellas, Tsakos Columbia Ship Management and Maria Tsakos Foundation.
There also a number of important individual sponsors, including a young Greek girl of 16 Stephanie Dracos who has set up " IMAGINATION EXCHANGE" to collect books for St. Nicholas Library, having lived in Ghana for five (5) years.
St. Nicholas Foundation, Tema, is a UK registered Charity with No. 1164193 . The Foundation operates under the umbrella of the Chaffinch Charity.
Meanwhile the St. Nicholas School is preparing to celebrate St. Nicholas Day on Sunday, December 4, 2016. Saint Nicholas is the patron saint of the Sea and of Sailors.