NPP angry over 6 'missing' ballot boxes from EC's moving truck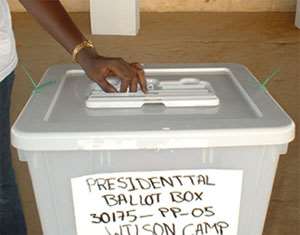 The Western Regional office of the Electoral Commission has confirmed to Citi News claims by the opposition New Patriotic Party in the region; that six of its ballot boxes meant for December 7 polls, have gone missing.
According to the NPP, the incident occurred when the six boxes, which were part of a bulk of 44 boxes, were being transferred from the Western Regional Head Office of the Electoral Commission to the various constituencies.
Speaking to Citi News in Takoradi, the Western Regional Secretary of the NPP, Charles Cromwell Bissue, explained that "on 16th of November 2016, when the ballot boxes were being transported to the various constituencies in the region, in between Tarkwa, six of the boxes went missing. It was reported to the Tarkwa Police; but later had to be reported to the Kwesimintsim Police Command yesterday [Friday]. We got wind of it and we were told the police have started investigations it."
'We're unhappy'
He added that, "as a political party we are not happy. As a result, we have called for a regional executive committee meeting to look into the matter. The reason is that; as a political party we are trying to restore democratic integrity into our electoral processes. However, there are so much suspicions transpiring now, in view of the fact that people do not trust the EC now. We were helping the EC to restore integrity but it appears the EC does not want it."
'We'll audit the ballot boxes'
Mr. Bissue concluded that, "because of this issue, we have called all our constituency executives to go to the district EC offices to audit all the ballot papers, count them book by book and page by page to ascertain what is happening there."
Sekondi parliamentary ballot papers 'over-bloated'
Mr. Bissue also alleged that, the EC has printed more than enough of the ballot papers for parliamentary elections in Sekondi, an NPP stronghold, contrary to its own rules that allows for only five percent extra ballot.
"The EC has a policy that, 5 percent of the ballot papers will be added to the voter population in each constituency, however it is not so. Sekondi constituency for example has over 168 of the parliamentary papers which we need to look into. So we want to help the EC to do a good job."
'Missing' ballot boxes fell from moving truck – EC
When Citi News contacted the Western Regional Director of the Electoral Commission, Stephen Opoku Mensah, he confirmed that the incident, saying the boxes have not been stolen but fell off the Commission's moving truck.
"Yes; the incident that the NPP is talking about happened; but it was not that it was stolen. Six empty boxes fell off on the road when they were being transported; but the police are looking into the matter.
He downplayed allegations of any foul play, and called for calm.
–
By: Obrempong Yaw Ampofo/citifmonline.com/Ghana