24 November 2016
|
Regional News
WACAM Holds 5th Conference Of Mining Community Groups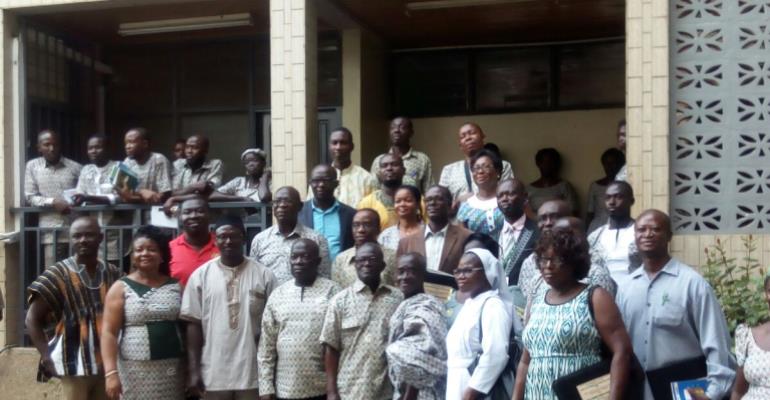 WACAM a civil society organization championing campaign against illegal mining has organized it 5th Conference of Community Groups on the theme "community –based advocacy the key to protection of citizens right" and also celebrating it 23 years of excellence in existence.
Speaking at the conference the Associate Executive Director for "WACAM" Mrs. Hannah Owusu-Koranteng revealed that the aim of this year's conference was to reflect on Wacam's advocacy of empowering the citizens and also the fight to amend public laws, saying the laws have not contributed to the common good of mining communities.
"This year's theme was chosen to reflect on our greatest advocacy lessen of Wacam that's empowerment of communities into an active citizens for national development which could be achieved through community-based right education, and also our public policies discourse has not provided adequate space and empowerment to the majority poor whose interest are rhetorically described as the reason for most national policies," she noted.
She continued that the rejection of the mining communities in the implementation of the mining laws has contributed to the enormous problems we face in the mining communities today.
"The exclusion of the mining communities in the decisions of the mining policies from cradle to grave has contributed to the problems that is confronting our mining sector today" the environmentalist emphasized
In an address, the Ashanti regional minister Hon. John Alexander Ackon, said the Ghana government was committed to implementing policies that will help improve living standards of people negatively affected in mining communities.
"Let me assure you that government is committed to continue to implement policies that would improve the living standard of the mining communities and Ghanaians in general, the mining ministry would continue to discharge it duties without fear or favor in order to bring law breakers in the mining sector to book," he warned
On his part, the newly Elected Secretary General of the Trades Union Congress (TUC) Mr. Anthony Yaw Baah, congratulated Wacam for 23 years of existence and commended them for their tremendous impacts in educating the mining communities on their civil rights and also contributing to the socio-economic development of Ghana.