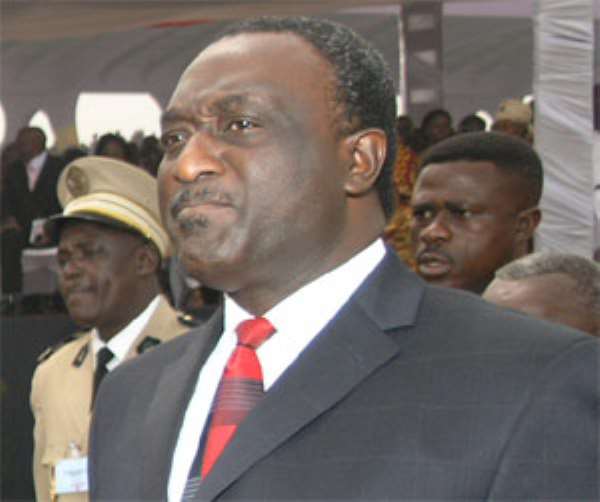 Accra, March 15, GNA - Mr. Alan Kyeremanten, Minister of Trade and Industry said on Tuesday globalisation imposed serious limitations on the abilities of nations to grow, especially when "some developed nations are technologically advanced than others and the transfer of same is not as forthcoming as expected."
Mr. Keyremanten, who said this at a Consultative Forum on Strengthening Competencies for Governance and Economic Management, indicated that certain countries had made advances on good governance, "But many of the advanced countries did not make the quantum leap through good governance, but what we could call bad governance."
The three-day Forum is organized by the Ministry of Trade and Industry, Public Services Commission, Office of the Head of Civil Service, Association of Ghana Industries and the Private Enterprise Foundation with the sponsorship of the UNDP and UNIDO.
The Forum, which has in attendance officials from the public service, the private sector and academia, is discussing among other issues, Leadership and Effective management - professional competency for policy development, implementation and monitoring.
Mr Kyeremanten explained that in times past, some countries progressed at the expense of others, but today we all have to go through the same processes to meet set targets with those countries.
"Ghana has gone through a massive transformation, and has no choice, but to adopt good governance practices to meet her development aspirations."
He urged the participants at the forum to define the context of the subject matter within the civil service and the public sector reform programme.
"I suggest you identify persons from the private sector who are capable and willing to work in the public sector on contract as is the case in the United States."
Mrs. Elizabeth Villars, Chief Executive of Camelot Ghana Limited commended the organizers for the forum, noting that governance and effective economic management were cardinal points for the development of the country.
She expressed the hope that a workable document would emerge from the forum to enable government meet the challenges of development.