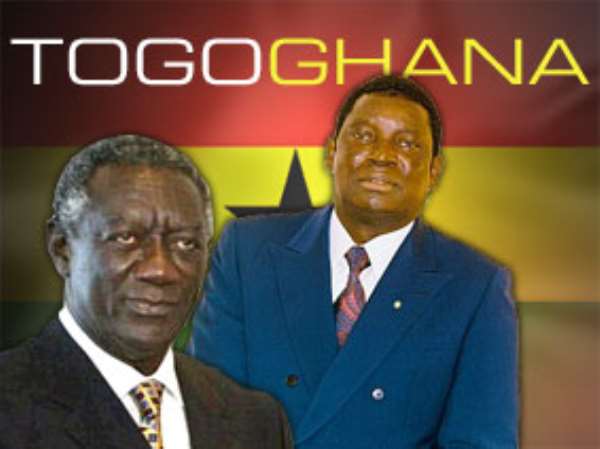 …Despite Eyadema being a military dictator
A senior member of the opposition National Democratic Congress (NDC), Prof. Kofi Awoonor, has observed that President Kuffour's close relation with the late military dictator of Togo, Gnassingbe Eyadema, was mainly a result of the strained relations that had existed between the late Togolese leader and the former president of Ghana, Jerry Rawlings.
"A friend of your enemy becomes your enemy and the enemy of your enemy becomes your friend," the professor analyzed, at a forum on African Affairs, in Accra, Wednesday evening.
Prof. Awoonor, one time Ghana's ambassador to Brazil, Cuba and the United Nations, opined, however, that the close ties that existed between the two leaders was a contradiction of President Kufour's stance as an avowed adherent of democracy.
"Kufour's close relationship with the late brutal dictator of Togo was a contradiction of his stance as someone who adores and holds high, the principles of democracy. The first contradiction of his stance even occurred when it happened that his first trip outside the country after he assumed power in January 2001 was to Togo, which occasioned a heated public debate."
He said one of the problems that may frustrate the impending Togolese elections was that the Togolese people had little belief that Ghana was going to help towards the holding of free and fair elections.
The former diplomat, who is said to be eyeing the position of the National Chairman of the NDC from afar, said the Togolese crisis that erupted after the death of Eyadema was far from over. He said he was, therefore, surprised to see a recent document from the Ghanaian Foreign Affairs Ministry that sought to portray that everything was fine in Togo.
In the view of the NDC guru, "The Eyadema constitution," as he described the current Togolese constitution, could not be used to democratize Togo. This, according to him, was because, the late leader had drafted the constitution in such a way that there was no way an opposition party could win an election in Togo even in his absence.
He said if the impending Togolese elections were to be carried out, based on the provisions of the current constitution, then the son of Eyadema, Faure, was going to win massively.
"There can't be free and fair elections in Togo, unless the Eyadema constitution of 1993 and the structure of the current Electoral Commission (EC) are changed. If the changes are not made, Faure would win the elections hands down and if that happens, we shall not see the end of the story," he emphasized.
Prof. Awoonor called on the Economic Community of West African States (ECOWAS) and the African Union (AU) to make sure that the right steps were taken to ensure free and fair elections in Togo.