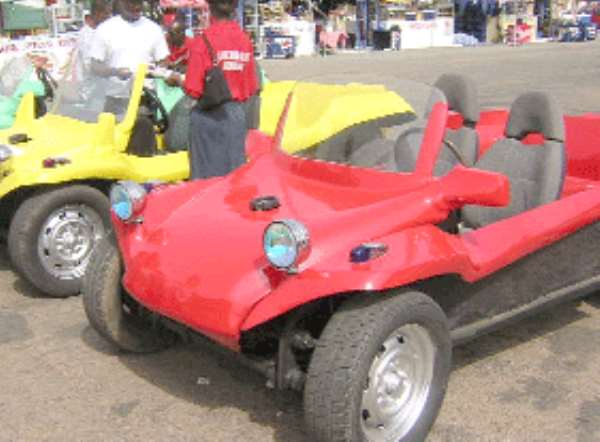 Accra, March 14, GNA - Local and foreign exhibitors at the ongoing INDUTCH Exhibition who attended with the aim of selling, said on Monday most visitors have complained about difficult economic conditions citing the recent fuel increase as a major factor.
The exhibitors said this year's INDUTCH has been worse in terms of sales because almost every visitor was complaining that there was no money since the recent fuel increase has caused their real income to fall.
These sentiments came to light when the Ghana News Agency (GNA) paid visits to stands to sample exhibitors impression about the 2005 INDUTCH.
The exhibition, which began on March 3, ended today Monday, March 14, at the Ghana International Trade Centre under the theme; "Transforming Ghana's Industrial Sector through Information and Communication technology (ICT)."
Mr. Prosper Agosstoo, a Beninoir herbal medicine exhibitor told the "They said fuel increase so no money again," he said.
Mr Agosstoo also observed that, the timing of the fair at the beginning of the month was not good and suggested that if it was organised close to the end of the month by which time people would have received their pay, things would have been better.
He said the publicity, which the organisers of the fair carried out gave preferential treatment to the bigger companies, neglecting small and medium scale enterprises like them.
Mr. Sameh Anwal, an Egyptian exhibitor said this year's fair, which was supposed to be international fall below the standard.
According to him only few foreign companies participated with majority being local firms that came solely to make sales, which to him fell short of the objective set out.
Alhaji Zakaria Cisse, a Malian jewellery maker said, "I have participated in many fairs in Ghana but this time no market.
"People come but they don't buy. They charged us so much money for the stand but we have not make sales to cover the cost."
Mr. Mohsen Asan, another Egyptian, who brought varieties of sweet products said, "the fair is very good but I think not many people like sweets.
"This is my first time so next time when coming,I will change the product and bring along 'Egyptian Bazaars'" (Egyptian products of all kinds.