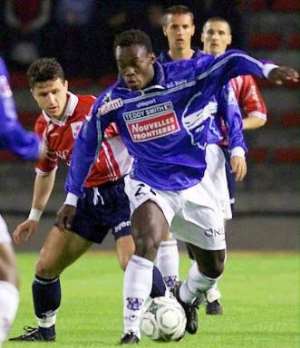 MANCHESTER United target Michael Essien is being hailed as the ideal future replacement for Reds captain Roy Keane.
While United turn their immediate thoughts to the FA Cup at Southampton to save their season, the post mortems into the Champions League last-16 exit have thrown up the need for an influential midfield figure to eventually provide Keane's drive.
The Irishman has just 16 months to run on his United contract and manager Sir Alex Ferguson wants the 33-year-old to remain at Old Trafford.
But with the Reds failing in the knockouts again, the pursuit of a new engine-room power is seen as one of Fergie's most urgent tasks as he looks to take United back to the elite level in Europe.
And 22-year-old Essien is emerging as the stand-out talent on the continent.
Reds scouts are already said to have dossiers compiled on the Ghana international and Ferguson saw him first-hand in Lyon's two group-stage matches against United in September and November.
United will not be alone in the hunt for the rising star of European football.
His agent Fabien Piveteau has claimed Juventus, Barcelona, Real Madrid and Arsenal are also keen. His two goals on Tuesday night in Lyon's 7-2 Champions League win over Werder Bremen will ensure a few more scouts will be posted to France.
But while the giants of Italy and Spain are sniffing around, Essien is reckoned to be suited to a Premiership move with the Keane role an ideal challenge.
Claude Le Roy, who last term was coach at Cambridge United, is now coach of Ghana's African rivals Congo and the Frenchman also monitors football across the channel for TV company Canal+.
Le Roy believes Essien's astonishing rise makes him perfect Old Trafford material.
"I think Michael Essien is now the best in the world in his position," Le Roy told M.E.N Sport.
"On March 26, Congo play Ghana in a World Cup qualifier. I am currently working on tactics to stop him, and I can tell you it is a monster task!
"I think he is one of the most powerful players in the world now."
Essien moved to French football in the summer of 2000 when he joined Bastia from Ghanaian side Liberty Professionals.
Two years down the line, his impact was so great that Lyon splashed out £3.5m to take him to the upper echelon of French football and into the Champions League this term.
"I was very impressed with him at Bastia and saw him a lot of times," Le Roy added.
"But his improvement in the last 10 months has been absolutely unbelievable. Game after game, he has improved. He is technically very comfortable and physically he is extremely strong. He is the perfect modern player.
"There is a good balance in his game. Tactically as a defensive midfielder, he has improved so much.
"And now he has added great improvement in the last 10 yards in front of goal and that's why you are now seeing him on the scoresheet.
"His game used to be a bit frenetic, but now he keeps his cool and puts his foot on the ball. He's the kind of player every top coach and top club would want. I think he would suit Manchester United perfectly.
"United need powerful players and Essien is exactly that. They are also a technically good attacking side and he has that in his game now.
"Physically, the Premiership wouldn't bother him at all. He doesn't have the maturity of a Roy Keane or Patrick Vieira yet, but with the tremendous improvements he is making, we will be talking about him as a Keane or Vieira next year.
"He is a clever and intelligent player and one of his other major assets is that he is fluent in English, so communication at United wouldn't be a problem for him at all. He'd be a great guy to have in the dressing room and a phenomenal asset on the field.
"I know you have to be special to cope with the pressures at Old Trafford but Michael has shown that he can contend with something like that at Lyon, where they are expected to be French champions every year. It hasn't been a problem to him.
"All the top clubs will be after him, but Manchester United would be a great move for the player and the club."
Would Essien be the ideal replacement for Keano? Have your say.