Kwame Nkrumah Interchange Opens To Traffic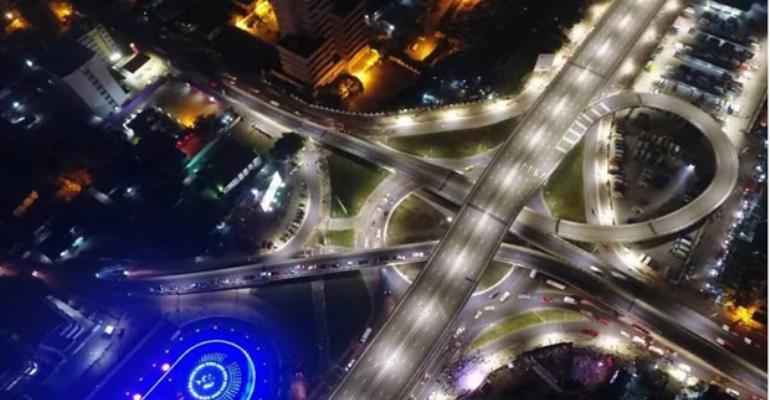 President Dramani Mahama yesterday officially opened the 74 million Euros three-tier Kwame Nkrumah Interchange in Accra.
The three-tier interchange, which was jointly financed by the Governments of Ghana and Brazil, comprises a flyover from the State Housing Corporation head office to La Paloma on the Ring Road; the Akasanoma flyover, the Nsawam flyover and a bridge over the Odaw River.
The ultramodern Kwame Nkrumah Interchange, which was constructed by Brazillian Company Gueiroz Galvao Construction, has changed the landscape of one of the busiest business centers in Ghana, and is expected to ensure free flow of traffic in the area.
President Mahama, addressing dignitaries and thousands of NDC supporters who thronged the venue, said the flyover, which is the longest and highest in West Africa, will immensely benefit over 200,000 motorists who ply the Circle route daily.
"This is the longest flyover and the highest in West Africa…please note I said flyover, the longest bridge is in Lagos, Nigeria but the longest and highest flyover is in Accra, Ghana."
President Mahama said the project would open up the country to citizens from neighbouring countries to boost trade, as well as reduce the time Ghanaians spend in commuting to work.
He said prior to the construction of the new Kwame Nkrumah Interchange, congestion at Circle caused a loss of $100 million annually to the Ghanaian economy.
"Lack of traffic flow at Circle resulted in an estimated loss of about $100 million per annum to our national economy," he said.
Apart from the three-tier interchange, the President Mahama said other roads, including the Ring Road East to the Feo Oyo Intersection on the Ring Road West, had been rehabilitated.
According to him, the roads have been asphalted with pedestrian walkways and bicycle paths also provided.
He said the construction of the Kwame Nkrumah Interchange created thousands of jobs and would do more in the coming days.
President Mahama lauded former Presidents John Kufuor and Jerry John Rawlings for improving roads in the country to ease traffic.
The President cut the sod in October 2013 for the construction of the three-tier Kwame Nkrumah Interchange.
By Cephas Larbi
[email protected]