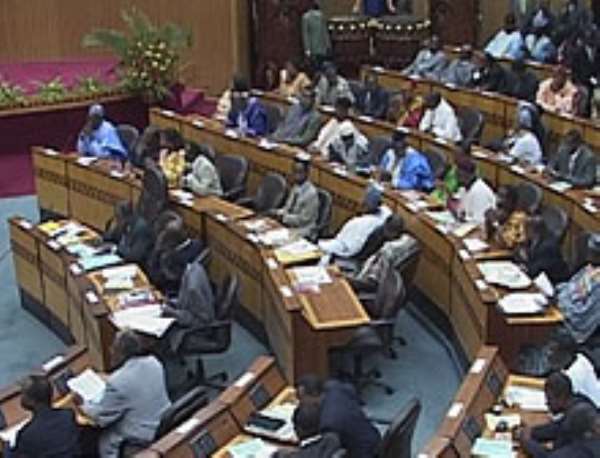 Ministry of Foreign Affairs funds slashed.... UK High Commission could not pay phone bills Accra, March 10, GNA- Members of Parliament on Thursday rebuked the Executive for not providing adequate resources to run the various Ministries and thus making them to perform below popular expectation. They had deplored poor remuneration, poor and inadequate facilities, late release of allocation and shortage of the requisite manpower. On Thursday six Ministries including the Ministry of Foreign Affairs had their budgetary estimates approved by the house.
Nana Addo-Dankwa Akufo Addo, Minister of Foreign Affairs, had lamented over late releases and slashing of estimates, which had affected the investment portfolio of the Ministry.
Alhaji Abukari Sumani, Member for Tamale North, said: "I don't believe the Ministry of Finance still realises the importance of the Ministry of Foreign Affairs.
"It is unpardonable for it to slash the Ministry's budget by forty per cent. All the foreign businessmen, loans, grants pass through this Ministry."
Alhaji Sumani, who is a former Ghana Ambassador to the Kingdom of Suadi Arabia, said the salaries of Ghanaian diplomats remained one of the lowest in the World.
Dr Akoto Osei, Member for Old Tafo and Acting Deputy Minister of Finance and Economic Planning, said the Ministry did not slash estimates of Ministries but only implemented what Cabinet approved. He said he had a personal experience with what Ghana Foreign Missions go through.
"One day, we had to travel to London. We could not get through to the High Commission because their phone had been disconnected for non-payment of bills."
On the Ministry of Manpower Development and Employment, members described it as important but seen as irrelevant in view of its low budgetary allocations over the years.
Senior Minister Mr J. H. Mensah said the Government would come out with a policy document that would seek to synchronise the objectives of the Ministry and the Ministry of Education and Sports. He said the policy would spell out the seriousness of government intention to pursue human resource development as a tool for national development.
He said Ghanaian education system taught poor skills in science and technology and other relevant aspects of life. The Senior Minister asked whether a Ghanaian trained architect could design and supervise the construction of a 100 storied-building. Earlier in the day, the House approved by consensus the confirmation of 13 Deputy Ministers.