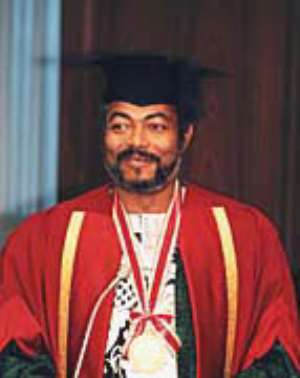 .. Described as a man of justice and equity .. His Govt Made Northern Ghana's Dream Come True THE FORMER President, Flight-Lt. Jerry John Rawlings would be honoured with a doctorate degree by the University for Development Studies (UDS) in Tamale for his commitment to the success of the university. The UDS which will organize a special graduation on March 19, this year, observed that, "UDS recognizes that it is your baby and it records for posterity that it was you as the Head of State of the Republic of Ghana who, against all odds, founded the University. Your commitment to the success of the UDS was demonstrated by the donation of your prestigious hunger award to assist the start up of the University. It is our belief that for these alone, you deserve to be given the highest honour by the University." In a letter dated January 10th this year, signed by the Vice Chancellor of UDS, Prof. John B.K. Kaburise, the UDS requested the former president to acknowledge the honour, stating among other things that, there are many reasons to prove beyond any doubt that he deserved to be conferred with an Honorary Doctorate degree.
"You have been a staunch believer in justice and equity. Your personal interest in working towards fair play in society makes you a friend of all those who cherish collective and holistic social advancement of our country." According to the University, Flt. Lt. Rawlings as a three times head of state, oversaw substantial improvements in the infrastructure of the nation, more especially in rural and deprived areas. This, Prof. Kaburise noted, was evidenced in road infrastructure and rural electrification programmes which have greatly benefited all rural communities in the country. The Vice Chancellor observed that the ex-President's commitment to development of deprived communities was underscored by the opening of Afram Plains and most of rural northern Ghana. When this paper sought the opinion of some ministers about the elevation of the former president, they noted that despite all odds, Mr. Rawlings deserved the necessary commendation but was quick to add that certain unwarranted statements directed to him were purely for political expediency. "Rawlings could be used to serve in conflict zones because he has what it takes. He needs to be encouraged but should be advised to tone down his attacks on President Kufuor." One minister, who pleaded strict anonymity for what he termed, "certain reasons known to me," said Rawlings is his role model! "I just like the man. I personally do not hate him but it was unfortunate that we failed to acknowledge his role. In fact, it was in a right direction that the UDS took that decision. I owe Mr. Rawlings gratitude," the Minister stated. Mr. Emmanuel Victor Smith, Special Assistant to the former President, confirmed the story when this paper contacted him. When asked about more justifications for Mr. Rawlings deserving of the award, Mr. Smith said he (Rawlings) directed the destiny of Ghana for nearly twenty years, adding that during that time, Ghana passed through momentous changes. He said, "Today, we acknowledge his role in effecting those changes. The start was unpropitious. In 1957,Ghana became the first sub-Saharan country to regain its independence. But, by the late 1970s, the economy was in catastrophic decline, corruption and inefficiency were rife and there was widespread disillusionment with the political system. In 1979, as a young Flight Lieutenant, J.J. Rawlings made his first intervention in national politics when he became the Chairman of the Armed Forces Revolutionary Council." According to the Special Assistant, after the former president held power for a brief period as the chairman of the Council, he stepped aside and elections were held. However, he noted that the situation under the new civilian government showed no improvement, arguing that in the face of growing public discontent, the civilian administration was replaced by the Provisional National Defense Council (PNDC.) of which Rawlings was Chairman. "At once, there began a huge number of reforms which affected, and continue to affect, virtually every area of Ghanaian life. After eleven years, the country returned to democratic rule and J.J. Rawlings was elected the first President of the Fourth Republic. That position was confirmed by further elections in 1996." Continuing, he said the former President led an active public life that revolved on an axis of volunteerism, in both public and private life and in the national and international arena. Mr. Smith said, he brought a new vigour, vitality and perspective to voluntary activity in Ghana, by his leadership role in both community and individual efforts at promoting national awareness in the areas of health, environment, economics, politics and development. Justifying further, Mr. Smith contended that his leadership style, charisma and passionate commitment brought dignity and pride to voluntarism as an instrument of social engineering and developing strategy. He stressed that in the area of health in particular, Mr. Rawlings led the way to effective mobilization of resources and field medical treatment for buruli ulcer, guinea worm and malaria patients. "He personally led various communities in campaigns to eliminate breeding grounds for malaria-carrying mosquitoes in de-silting gutters and drainage systems in towns and villages." "In most cases, these activities were executed at the risk of his own health and never sparing a thought for his own personal safety and comfort. In this way, personal hygiene and community sanitation came to be accepted as the norm, leading to the institutionalization of community cleaning exercises on regular periodic basis.
He carried the message of service to one's country to religious organizations, giving it a spiritual significance for people to find their self actualization and fulfillment."
On politics, Mr. Smith has this to say about his boss, "In the area of politics, he created opportunities for people who would otherwise have shunned public service, to offer themselves for public service in a hostile and polarized society. In the early 1980s, Jerry John Rawlings established People's and Workers' Defense Committees, as voluntary organizations for the exercise of political power and articulation of local needs and priorities, supervision and monitoring of programmes and projects.