Ghana Prisons Service salutes GOIL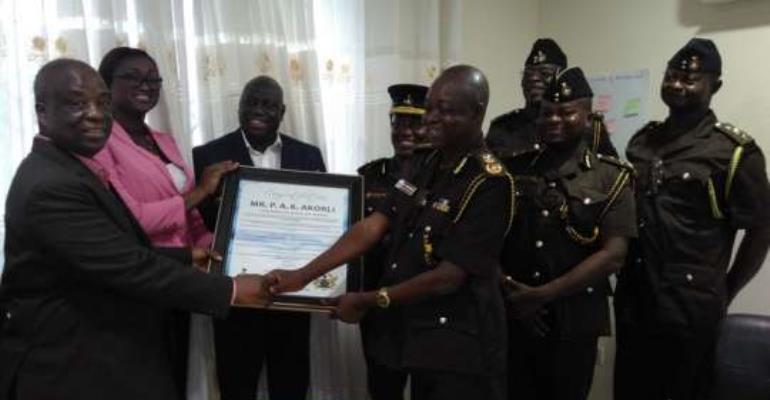 Accra, Nov. 11, GNA - The Ghana Prisons Service on Thursday commended the management and board of Ghana Oil Company Limited (GOIL), the nation's foremost indigenous oil marketing company, for being one of the most outstanding homegrown management companies in the country.
Mr Emmanuel Yao Adzator, Acting Director General of the Ghana Prisons Service, who made the commendation, noted that: 'In the era when most local companies are bedeviled with management challenges, GOIL continued to perform tremendously well in the midst of global and domestic hiccups'.
Mr Adzator said this during a brief presentation of glass and wood engraved commemorative placard to Mr Patrick Kwame Akpe Akorli, GOIL Managing Director, for being adjudged the CIMG Marketing Man of the Year, whilst GOIL was declared the CIMG Petroleum Company of the Year.
The commemorative placard has the National Coat of Arms and the Ghana Prisons Service Logo embedded at the bottom.
Mr Adzator, who was accompanied by senior management members of the Prisons Service, said the service considered GOIL as hero, and urged the Board and Management to continue with their prudent management systems.
Mr Akorli acknowledged the overwhelming support from corporate Ghana and individuals since the double award and attributed it to team work from GOIL Board and Management members.
Other GOIL management members included Mr Stephen Yaw Gyabeng, Solicitor/Secretary; Mr Anthony Twumasi, IT & Planning Manager; Mr Joseph Kofi Nyarko, Health, Safety & Environ Manager; and Mr Erasmus Ofori Sarkwa, Finance Manager.
GOIL was incorporated as a private limited liability company on June 14, 1960, as AGIP Ghana Company Limited with the objective of marketing petroleum products and related products particularly fuels, liquefied petroleum gas (LPG), lubricants, bitumen, and specialty products in Ghana. The shareholders were AGIP SPA of Italy and SNAM S.P.A.
On December 16, 1968, SNAM S.P.A. transferred its 10 per cent shareholding, representing 95,000 shares, to Hydrocarbons International Holdings of Zurich, Switzerland.
The Government in 1974 acquired the shares of AGIP SPA and Hydrocarbons International Holdings in AGIP Ghana Company Limited and by a special resolution in 1976 changed the name of the company to Ghana Oil Company Limited.
By a shareholders resolution passed on August 1t, 2007, the company adopted new regulations and was converted into a public company.
Between the year 2010 and 2012, the company underwent a transformation process aimed at changing its logo, station outlook, and most importantly the corporate culture which was dubbed 'Good Energy comes with a Smile'.
Though the company's main business is marketing and distribution of petroleum products in Ghana, one of the tenets of the New GOIL is to move beyond the current frontiers to marketing and distribution of energy products in general.
GNA